Get a quote
IVIVE and Human PK Predictions
The DMPK team at Sygnature Discovery has several years of experience in PK modelling and simulation.  In complement to our in vitro and in vivo ADME laboratory-based services, we also offer several IVIVE and PK prediction packages to support the various stages of the drug discovery process from screening, to selection and to election of a pre-clinical drug candidate.
In Vitro In Vivo Extrapolation (IVIVE) models enable us to translate experimental results obtained in vitro to in vivo without the need to carry out in vivo pharmacokinetics. This approach serves to minimise the time, cost and effort employed to progress compounds, typically during the hit-to-lead stage of drug discovery.
Progressed compounds are usually then tested in pre-clinical models. Combined in vivo pharmacokinetics (PK) and pharmacodynamics (PD) data obtained during lead optimisation with in vitro ADME data, is used to carry out Human PK predictions to guide lead pre-clinical candidate selection.
IVIVE and Human PK Predictions can be used to evaluate drug series and drug candidates.
Human PK predictions can, together with PD results, support the selection of drug series and drug candidates. These results are based on how well the predicted human PK profiles fulfill the required PK profile:
Does a once daily dose achieve plasma/blood concentrations above the effective concentration?
Is the efficacious concentration below the toxicity threshold? If so is there enough safety margin?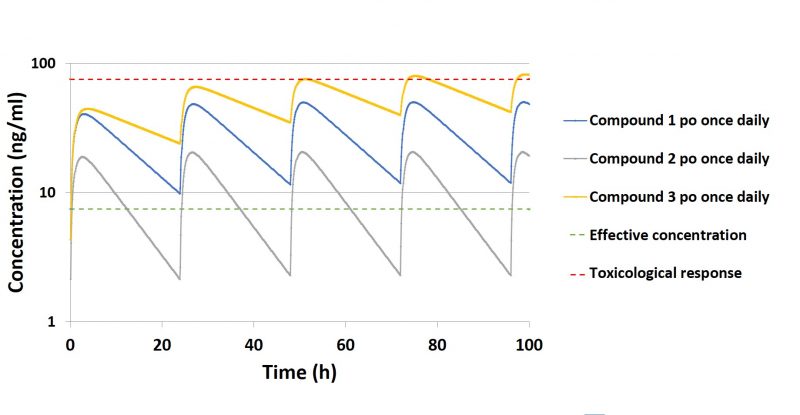 Figure 1. Simulation of three different compounds administered once daily. Effective concentration and toxicological threshold are highlighted.
Human PK prediction requires prediction of human clearance (Cl), human volume of distribution at steady state (Vss), elimination half-life (t1/2) and bioavailability. These parameters can be obtained by performing a series of in vitro ADME studies together with non-human PK.
Human clearance and volume of distribution are predicted by Physiology-Based Pharmacokinetics (PBPK) based on in vitro data and allometric scaling.
Once the PK parameters have been predicted, a compartmental model is fitted to the in vivo data in pre-clinical species using Phoenix WinNonlin. The predicted parameters are inputted into the compartmental model to predict human PK, enabling a decision on if a given compound could be a suitable drug candidate.