Cell Proliferation and Viability Assay
Sygnature Discovery has adopted a broad range of techniques to help you to identify biologically active compounds that underline the consequences of target inactivation on cell proliferation, activation, apoptosis or cytotoxic cell death.
Cell Proliferation and Viability Assay
Cell proliferation and viability assays are powerful tools facilitating discovery of novel therapeutics. Most in vitro proliferation assays determine the number of viable cells and are based on quantifying the number of cell nuclei, metabolic activity, assessing cell redox potential or mitochondrial integrity. These proliferation assays can be multiplexed with cytotoxicity or apoptosis assays that monitor cell fate in response to compound treatment. Compound-induced cell apoptosis can be measured by an increase in cell membrane permeability, loss of membrane asymmetry or caspases activation. We rely on automated liquid handling to allow high-throughput data acquisition. This helps us to quickly validate compounds and facilitate selection for the next screening round within a Design-Make-Test-Analyse cycle. These cell proliferation and viability methods can be applied to both Phenotypic and target-based drug discovery projects. We utilize, for example:
Peripheral blood mononuclear cells (PBMCs) obtained from our Blood Donor Panel
Primary cell populations or subpopulations (T cells, B cells, Natural Killer cells, macrophages)
Techniques used to measure cell proliferation, viability and apoptosis include:
Detection of cell's metabolic activity

Resazurin reduction
ATP luciferase coupled reaction

Quantification of cell nuclei or cell confluency

Fluorescent labelling of DNA/cell nuclei
Acquisition of phase contrast images of cells using IncuCyte® ZOOM

Detection of actively dividing cells

BrdU incorporation into newly synthesized DNA

Cell apoptosis/cytotoxicity

Caspase 3/7 activation during cell apoptosis
Increase in cell membrane permeability
Loss in cell membrane asymmetry by detection of exposed phosphatidylserine on cell surface
Examples of in vitro assays to measure cell proliferation, viability and apoptosis.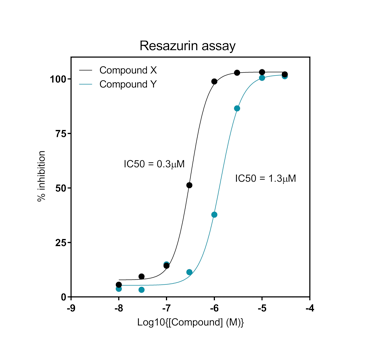 Figure A: Resazurin assay using cells treated with two compounds. Compounds display different potency on proliferation of cells.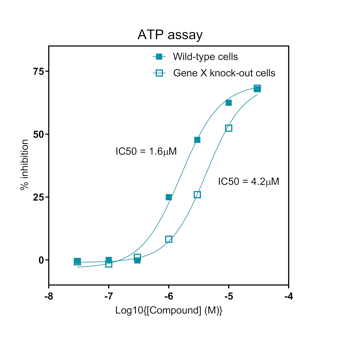 Figure B: ATP Luciferase coupled assay. Compounds display different potency on proliferation of wild-type versus knock-out cells.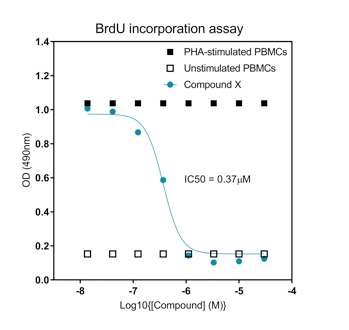 Figure C: BrdU incorporation assay with PMBCs that were left unstimulated or stimulated with PHA in the presence of selected compound. The compound reduces activation and proliferation of T-cells responding to stimulus.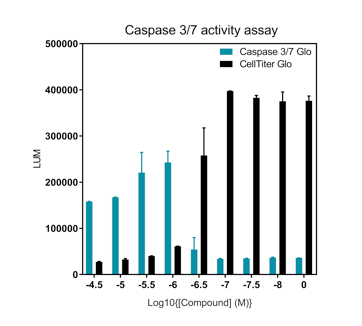 Figure D: Caspase 3/7 Glo® activities in cells treated with a compound. Data expressed in comparison to CellTiter Glo® to demonstrate correlation between a reduction in cell viability with an increase in caspase 3/7 activation.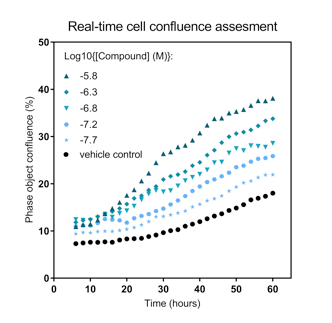 Figure E: Real-time cell confluency assessment using the IncuCyte® ZOOM instrument. Data display a time-dependent increase in cell confluency in response to stimulation.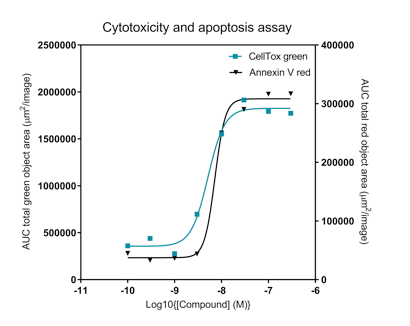 Figure F: Detection of cytotoxicity and apoptosis in cells treated with a compound. Data shows dose-dependent increase in CellTox Green® intracellular accumulation and Annexin V binding in response to compound treatment.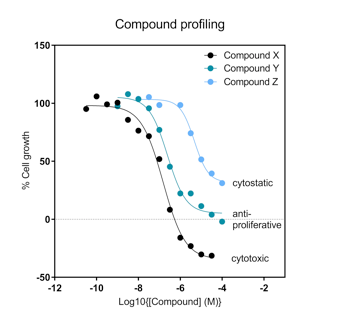 Figure G: Determination of compound effect on cell growth. The graph shows a compound that is cytotoxic (X), anti-proliferative (Y) or cytostatic (Z).