Request a Quote
DMPK and Physical Sciences
The timely delivery and interpretation of discovery DMPK data is essential in the optimisation of key parameters such as Absorption, Distribution, Metabolism, Excretion (ADME) and Physico-Chemical properties during the Drug Discovery process.
A Fit-for-Purpose approach is usually taken that involves working with you to understand the molecular target and the required pharmacokinetics, benchmarking tool or lead molecules to understand their liabilities and opportunities for improvement, as well as designing and adopting a flexible DMPK screening cascade to support your medicinal chemistry and bioscience efforts.
Sygnature is a CRO with a mission to deliver tailored DMPK expertise through innovation, quality and commitment, and our DMPK and Physical Sciences team will utilise a large selection of validated in vitro assays and state-of-the-art analytical capabilities to support your requirement.
To ensure an efficient and rapid turnaround of key DMPK data in support of a design-make-test-analyse cycle in each project, and to ensure effective support through each stage of the Discovery process, we will provide the following:
Access to a DMPK project representative who will guide you (if required) through the discovery process from planning to data delivery. Any work placed with us will also have access to our DMPK scientific experts for consultancy input. An optional summary report that can be adapted to your own existing template or format can also be generated
Access to a comprehensive range of standard in vivo and in vitro service offerings which are offered at globally competitive prices
Our DMPK service offerings in support of Drug Discovery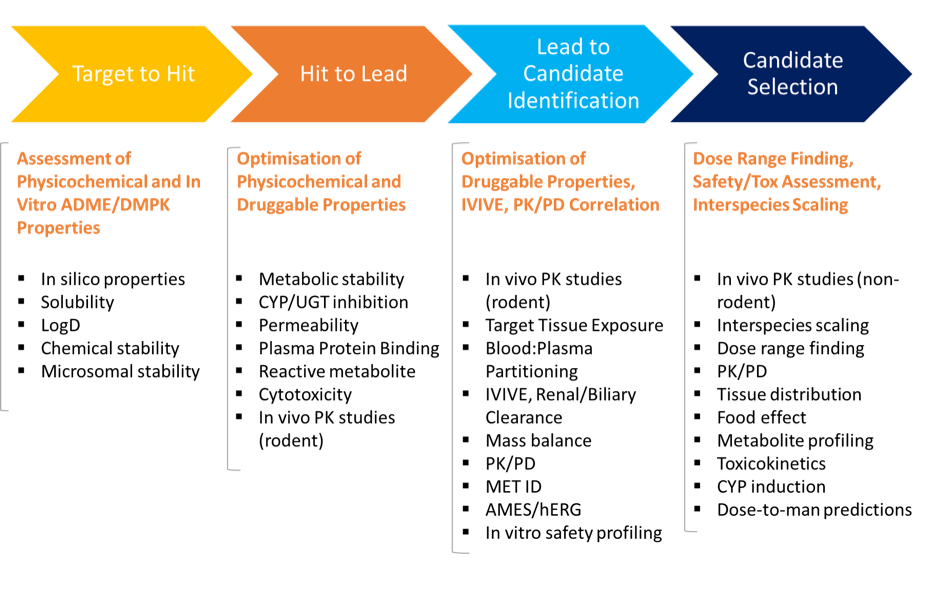 Our state-of-the-art laboratory equipment
Our cutting edge and ultra-modern laboratories include the latest mass spectrometers such as the Xevo G2-XS QTOF Mass Spectrometer, designed for both routine qualitative and quantitative UPLC-MS/MS applications, allowing us to confidently identify parent and metabolites in both in vitro and in vivo biological samples.
Our equipment includes:
Waters TQ-XS triple quadrupole mass spectrometer with UniSpray ionisation
Waters Xevo TQ-S triple quadrupole mass spectrometer
Sciex API5500 QTRAP triple quadrupole mass spectrometers
Waters Xevo G2-XS high-resolution Q-Tof mass spectrometer
ThermoScientific Q-Exactive high-resolution Orbitrap mass spectrometer
ThermoScientific Vanquish Flex UHPLC and PDA system
Waters Acquity I-Class UPLC systems
Agilent 1290 Infinity II UHPLC system
CTC autosamplers for maximised plate capacity
Why work with us?
Our mission is to deliver tailored DMPK expertise through innovation, quality and commitment.
We provide expert guidance and problem-solving solutions. Our scientists don't just deliver your data, but also apply in-depth analysis expert input to interpret your data, establish/amend DMPK screening cascades and/or scale the data to human.
We provide a comprehensive range of validated assays. Our assays include an extensive list of Physico-Chemical assays, in vitro ADME assays, in vitro Toxicology assays, in vivo pharmacokinetics and bioanalysis, as well as IVIVE, PK/PD and Human PK predictions.
We offer complete transparency. Throughout the course of your project, you will have direct access to our data via our state of the art Informatics infrastructure to facilitate discussions and decision making.
We offer both stand-alone Fee for Service (FFS) or Full-Time-Equivalent (FTE) business models to help you with your DMPK requirements