Contact
Lead Optimisation
Advancing Lead Molecules to Clinical-Grade Compounds: A Multifaceted Optimisation Approach
The primary objective of a lead optimisation campaign is the transformation of promising lead molecules, potentially with early in vivo proof of concept data, into compounds of the right quality for human clinical evaluation. To achieve this pivotal goal, our cross-disciplinary teams fine tune the molecular structures to optimise novelty, potency and safety, whilst tailoring ADMET properties  to deliver the right balance of exposure, duration and target engagement.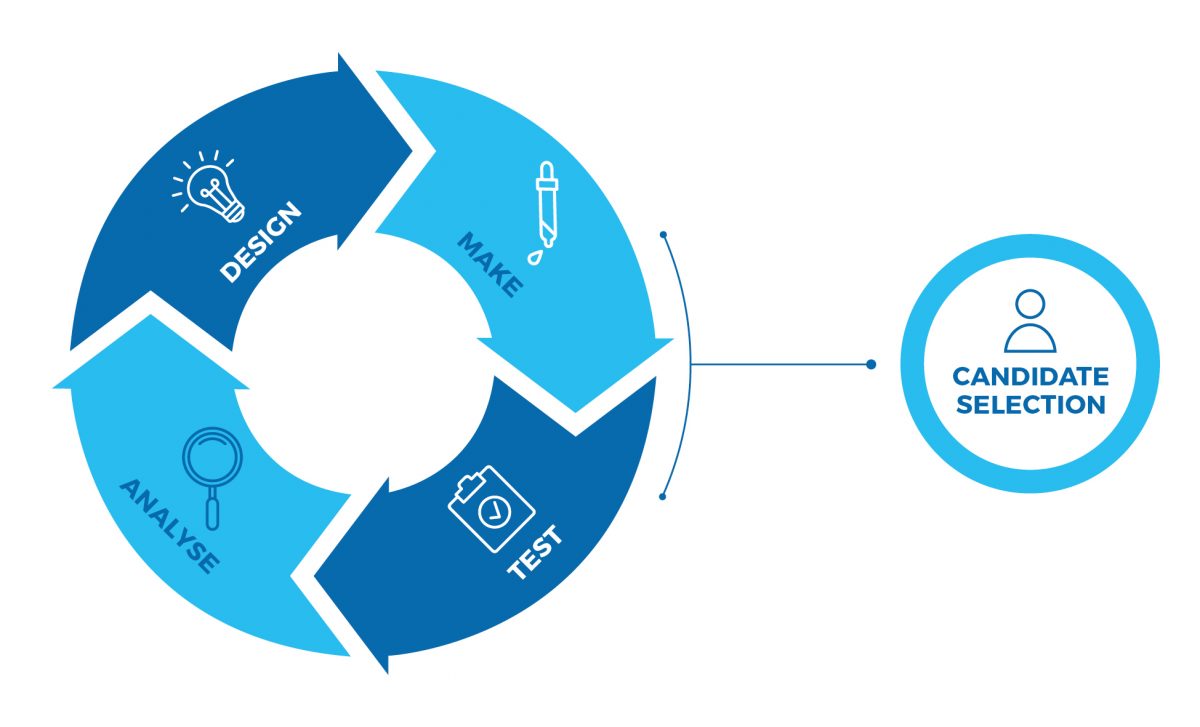 Sygnature Discovery's Lead Optimisation & Drug Development Capabilities

:
Key Aspect
Description

Internal

Efficiency 

Empowered by Sygnature's highly efficient internal Design–Make–Test cycles, and accelerated by our close team integration and physical co-localisation.

Data Generation

Rapid and robust generation of top-tier data to drive decision making and candidate selection.

Experience and Innovative Solutions

Drawing upon a wealth of internal experience, our teams avoid common drug discovery pitfalls and interrogate multi-dimensional project data (including the use of ML- and AI-generated models based on our curated datasets) to deliver inventive solutions to the most challenging of drug targets.

Track Record

A remarkable track record underscores Sygnature's accomplishments – over the last decade, we've delivered over forty high-quality clinical candidates for clients, over half of which are already undergoing human clinical trials.

Route Development, Scale-up, and Formulation Expertise

Sygnature's route development expertise and scale-up capability allows rapid delivery of large-scale API for studies up to and including non-GLP safety assessment batches. Our robust routes are frequently transferred as-is to partner Contract Manufacturing Organisations for GMP synthesis and clinical supply. And our formulation expertise not only accelerates entry into pivotal in vivo efficacy studies but also expedites the selection and delivery of drug product for initial trial supply.
Excellence in Lead Optimisation
At Sygnature Discovery, our multidisciplinary drug discovery teams thrive within a synergistic environment, ensuring maximal efficiency in elucidating and optimising Structure-Activity Relationships (SAR). We pride ourselves on fostering an interactive and highly collaborative relationship with our clients, always ensuring that we present strategically sound and proactive solutions for advancing projects.
Our state of the art informatics systems facilitate transparent presentation and analysis of the latest data, to stimulate discussion and rapid reprioritisation of synthetic targets and assay cascades as appropriate. As we approach candidate selection, our experienced drug metabolism and pharmacokinetics (DMPK) scientists will help to establish in-vitro to in-vivo and PK/PD correlations and predictions of human dose for promising candidates.
Our impact and contribution on these complex projects has been recognised through our  co-inventorship on well over one hundred and sixty patents, alongside numerous papers, posters, and conference presentations.
Connect with us to explore how we can help accelerate your project toward clinical success.