Contact
Ion Channel Screening
Pioneering Ion Channel Screening for Drug Discovery
At Sygnature Discovery, we're at the forefront of ion channel screening, offering state-of-the-art services that deliver actionable and customizable insights for your drug discovery initiatives. With a legacy spanning over two decades, we've pioneered the development of over 200 ion channel assays, collaborated on more than 200 ion channel projects, and identified upwards of 150 ion channel targets.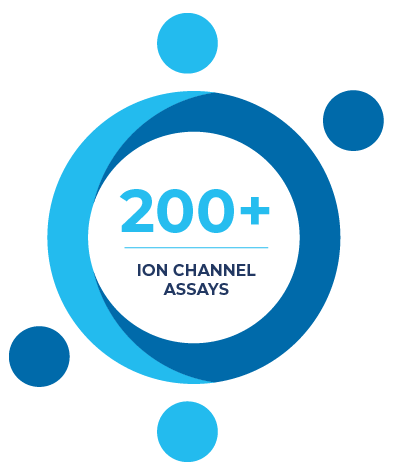 Key Achievements:
Ion Channel Assays: 200+
Ion Channel Collaborations: 200+
Ion Channel Targets Identified: 150+
Our Expertise:
With our expertise and cutting-edge electrophysiology platforms and fluorescence-based screening capabilities to facilitate even the most demanding of ion channel studies, we are your all-in-one solution for your ion channel screening requirements.
The Blueprint for Ion Channel Drug Discovery Success
Our pathway to success in ion channel drug discovery is built on expertise and a commitment to excellence. As leaders in the industry, we offer a comprehensive portfolio of ion channel targets, including:
| | |
| --- | --- |
| Ion Channel Targets | |
| TRP channels | Calcium-activated potassium channels |
| Sodium channels | GABAA receptors |
| Calcium channels | Glutamate receptors |
| Voltage-gated potassium channels | Nicotinic receptors |
| K2P channels | P2X receptors |
| Inward rectifiers | Chloride channels |
End-to-End Ion Channel Screening Services
Our streamlined approach ensures a smooth progression from cell-line generation and assay development. Trust in our state-of-the-art electrophysiology platforms and fluorescence-based screening capabilities, expertly managed by our in-house team. We take pride in delivering rapid, robust, and reliable data, empowering you to accelerate your ion channel research.

Unleashing the Power of Leading Technologies
With our advanced 384-well automated patch clamp electrophysiology platforms, we tackle the intricate challenges of your ion channel campaigns head-on. Achieve high-throughput screening speed and high-quality data output and benefit from seamless downstream transition to lead optimisation campaigns and ion channel selectivity profiling. Our automated electrophysiology platforms provide the crucial results you need to advance your next ground-breaking therapeutic discovery.
Additionally, we offer fluorescence-based screening capabilities, utilising state-of-the-art compound dispensing and analysis software, as well as comprehensive mechanistic studies via classical manual patch clamp electrophysiology.
Drive Your Ion Channel Screening Success
Your success in ion channel drug discovery is our top priority. Our dedicated team of scientists is with you every step of the way, providing personalised support to drive your discoveries forward. We value the strong relationships we build with our global partners and are committed to being an integral part of your drug discovery journey.
Take the Next Step – Turn Your Vision into Reality
Don't miss the opportunity to unlock the full potential of your ion channel research. Together, we will propel your research forward and lead the way in ion channel discovery. Let us be your trusted partner in turning your vision into a therapeutic reality.