Contact
Medium and High Throughput Screening
Sygnature Discovery supports preclinical discovery projects from Target Validation through to Lead Optimisation and candidate nomination, across a broad range of Therapeutic Areas and target classes. As a CRO serving the breadth of early stage discovery projects Sygnature has developed a comprehensive Hit Identification platform that is supported by medium and high throughput screening capabilities.
Sygnature's scientists are experts at designing bespoke hit finding solutions, with tailored screening approaches which encompass Biochemical, Biophysical and Cell-based Assays, to support your early stage projects. Sygnature have invested in state-of-the-art, flexible automation platform allowing in-house Medium Throughput Screening (MTS) and High Throughput Screening (HTS). Our automation platforms is fully integrated with industry leading informatics to ensure data fidelity and compound tracking, providing a full audit trail for data, samples and operations.
High Throughput Screening
MTS; screening of up to 20,000 compounds, is employed when reagent availability is limited or complex assay endpoints are required e.g. high-content phenotypic reads. For MTS Sygnature's in-house Diversity Deck (50,000 lead like compounds) provides attractive, low molecular starting points for a medicinal chemistry program. A subset of our screening library could be selected by our computational chemistry group based on virtual screening against any protein structure, active sites or hotspots or based on known ligands or fragment hits and added to any "virtual hits" from computational screening of the commercial database. Alternatively, our experienced medicinal chemists can design and synthesise computationally directed focused libraries around known ligands.
When seeking to explore a broader diversity range, and when reagents availability is not limiting, our 150,000 compound LeadFinder Library can be used for HTS. Our LeadFinder library can be further augmented with other commercial collections, allowing each screening cascade to be tailored to the target of interest.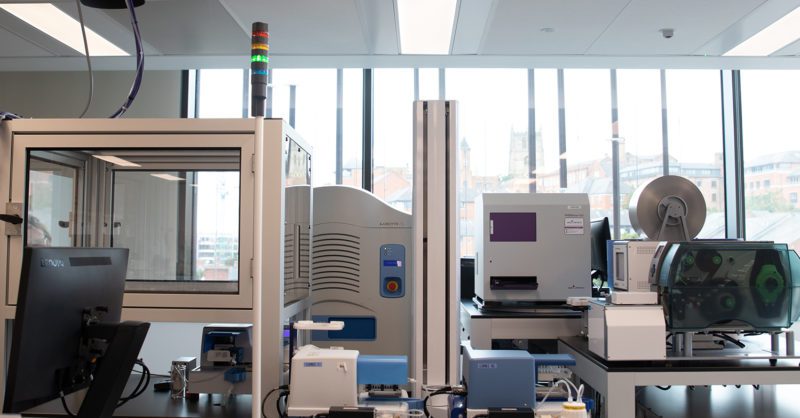 When designing robust and reproducible high throughput screening and MTS assays, Sygnature's experienced scientists:
Perform careful evaluation of potential parameters that may affect the assay and risk of false positives
Implement efficient compound delivery routes, such as the use of high precision acoustic nanoliter dispensing
Utilise flexible assay construction to ensure the assay can respond to changing project demands
Evaluate a wide range of assay readouts

High Content Imaging (ImageXpress® Micro-Confocal)
Fluorescence/luminescent (PHERAstar® FSX/EnVision® platforms)
SPR (Biacore™ 8K)
Assess data analysis and reporting options such as the use of Genedata/Dotmatics/Vortex or Spotfire, to ensure data can be easily interpreted and that the client has full and transparent access to all necessary information.