Tumour Biopsy Analysis
Our experienced scientists here at Sygnature Discovery can help you develop appropriate exploratory Biomarkers for tumour biopsy analysis to support pre-clinical and Mechanism of Action studies within your Therapeutic Indication. A range of assay types and platforms can be used to explore potential biomarkers, from Proof of Mechanism (POM) biomarkers to support PK/PD studies, gene expression profiling for patient segmentation, through to Proof of Concept (POC) biomarkers to support efficacy.
Biomarker analysis has been used to support a range of client projects here at Sygnature Discovery, including the CellCentric program targeting p300 and CBP; paralogue histone acetyl transferase (HAT) proteins that play a critical role in gene regulation in cancer cells. CellCentric's compound, CCS1477, a potent, highly selective, orally bioavailable small molecule inhibitor of the bromodomains of p300/CBP, was shown to have anti-proliferative activity in a range of prostate cancer cell lines in vitro. This activity is associated with a reduction in the expression of a number of biomarkers, including the proto-oncogene c-MYC, as well as androgen dependent genes such as KLK3 and TMPRSS2.
Tumour Biopsy Analysis

Figure 1: In vitro biomarker gene expression analysis in 22Rv1 cells after treatment with CCS1477 across a concentration range between 10µM and 1nM for 72 hours.
CCS1477 was administered to a 22Rv1 xenograft model where it was shown to reduce tumour growth. Analysis of the tumour samples by Sygnature Discovery scientists, confirmed that the level of biomarker Gene Expression was reduced in the tumours in a time and dose dependent manner in concordance with the in vitro gene expression analysis. These data support an on target mechanism of action for CCS1477 that correlates with the observed tumour growth inhibition.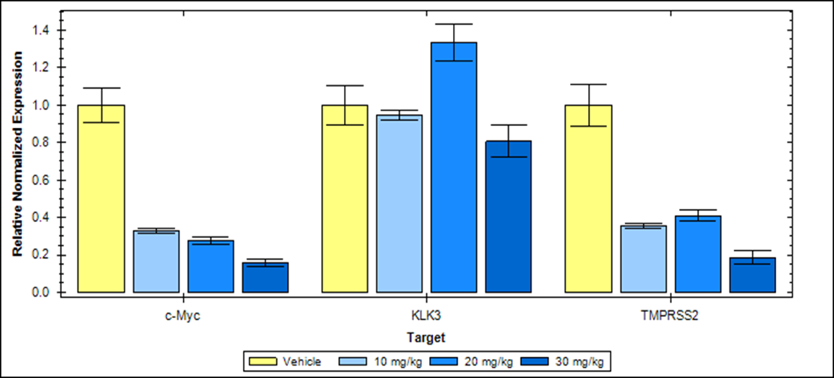 Figure 2: Gene expression analysis of tumours from a 22Rv1 xenograft model after 28 days treatment with increasing doses of CCS1477, demonstrating significant reduction in the expression of key biomarkers.
This work has supported the CellCentric program to demonstrate compound mechanism of action and efficacy, and further examples of the work that Sygnature Discovery can perform in this area can be found on the recently presented posters.