Cellular interaction and Co Culture Assay Systems
Using a co culture system to study cellular interaction and custom-built complex, relevant disease models, Sygnature is able to add value to your discovery projects by recapitulating disease states in vitro, to allow comprehensive profiling of your novel compounds.
For many disease states, interactions and communication between different cell types play a critical role in disease initiation and progression. Whether it is the interplay between tumour and stromal cells, or the cellular interactions required for blood vessel formation, our ability to study and understand these cellular interactions can be crucial in supporting the development of novel therapeutics.
Co Culture Assay Systems
Sygnature Discovery has a wealth of experience using co-culture systems, monitoring cellular interaction in real time using continuous live cell imaging on our Essen IncuCyte® Zoom platform. We can also comprehensively interrogate cellular networks using High Content Imaging.
Angiogenesis: Co-culture of endothelial cells and fibroblasts allow the formation, structure and dynamics of a vascular network to be studied. The monitoring of network dynamics in real time using live cell imaging and the interrogation of the angiogenic network using high content imaging allows a full assessment of the use of agents aimed at modulating blood vessel formation and growth.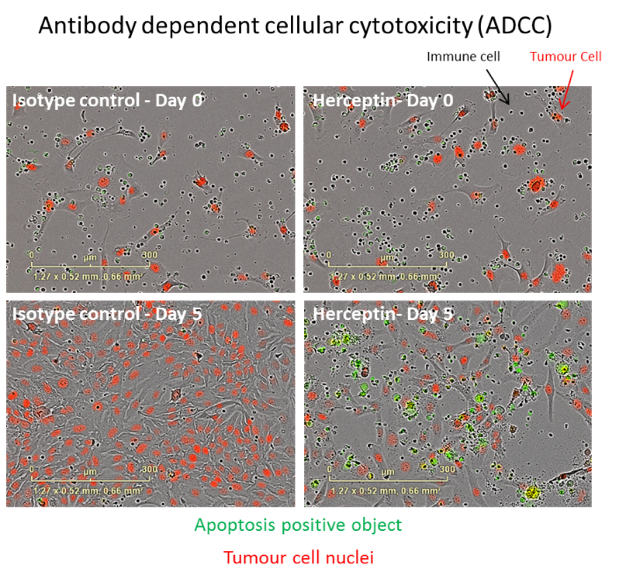 Tumour-stroma interactions: Increasingly, the stroma is being recognised as a therapeutic target in cancer. The co-culture of tumour cells with fibroblasts in 3D models of tumours can recapitulate more closely the tumour microenvironment in your cell culture dish.
Immune cell killing & antibody dependent cellular cytotoxicity: A tumour's ability to evade the body's immune system is crucial for tumour development. Modelling the cellular interaction between cancer and immune cells offers a wealth of opportunities to exploit the potential of modulating the immune system to target cancer cells.
Phagocytosis & antibody dependent cellular phagocytosis: Whether it is inflammatory disease, or the promotion of cancer cell clearance, the modulation of phagocytosis offers significant potential for new therapeutics. Watch your compound affect target cells being internalised in real time using live cell imaging and see the interaction of phagocytes with target cells using high content imaging.