Get in touch
Discovery Toxicology
The cost impact of late-stage failures of drug candidates has driven efforts to develop, validate, and implement a more proactive testing paradigm, including a strong emphasis on carrying out predictive in vitro and in vivo toxicology studies earlier in the discovery process.
The Discovery Toxicology group at Sygnature will work in partnership with clients and side by side with medicinal chemists, computational chemists, and DMPK scientists, to shift attrition of molecules that are destined to fail, upstream in the discovery process, where we still have choices in target and chemistry. This shift in attrition requires an investment earlier in the candidate evaluation process to avoid inefficient spending of resources on molecules with soon-to-be-discovered development-limiting liabilities.
Our team of scientists will design and tailor a suitable screening cascade to identify safety liabilities and support an efficient design-make-test-analyse cycle in each project and accelerate the drug discovery journey towards the clinic.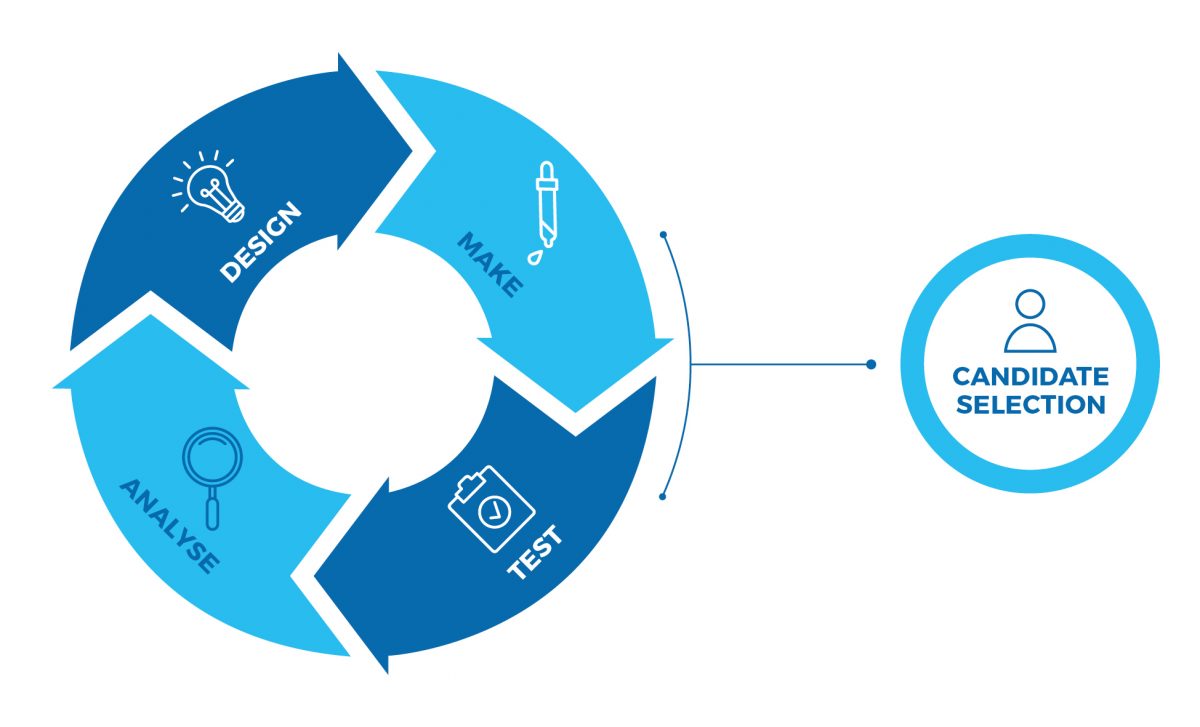 Figure 1. Drug Discovery is a process of iterative chemical design, synthesis and biological testing of many molecules to identify a clinical candidate
Discovery toxicology differs from regulatory toxicology. In the latter, a single compound is empirically characterised over a long period in a series of defined regulatory studies. In the former, the pharmacological target is constant whilst chemical structures evolve over a short timeframe as a result of the design-make-test-analyse cycle.
Our talented Discovery Toxicology scientists have a broad skill base across the scientific disciplines including biology, chemistry and DMPK. Toxicological risk assessment during the discovery stage requires interpretation and integration of information from all these disciplines, which helps to define and provide context to the safety findings and risks. For example, toxicity of a compound is often triggered by the route of metabolism, clearance or disposition profile of the molecule which can be modulated through structural changes. We offer expertise and guidance in the following areas:

Toxicity Models
A broad range of robust toxicity models has been developed and validated following the most up-to-date FDA and EMEA guidelines. Numerous non-GLP toxicology assays have been qualified for assessment of hepatotoxicity, cardiotoxicity, genotoxicity, cell viability and mitochondrial impairment. At Sygnature Discovery we know how keeping control of time and costs is valuable to our clients. Our skilled scientists will work closely with you and provide guidance on the best strategy to follow and what assays to prioritise at the differences phases of the discovery process to maximise your chances of success.
Cellular and Mechanistic Toxicology
During the drug optimisation process many compounds display signs of moderate to high toxicity. At Sygnature Discovery we are equipped with the skills, the equipment and the know-how to unravel the cellular, biochemical and molecular mechanisms by which drug candidates may disrupt biological pathways and targets and cause toxic effects. A broad panel of tissues, cells and markers have been tested and validated at our facilities to provide our clients with a thorough toxicology assessment.
Sygnature Discovery has invested in cutting-edge screening techniques using 3D microtissue or spheroid models, complemented with high content imaging platforms and biochemical techniques.
These models offer the possibility to carry out long-term repeat dose studies which are not possible using 2D systems. Also, 3D cellular models closely mimic native tissues and have the benefit of cell to cell interaction.
Non-GLP Exploratory Toxicology
Our exploratory Toxicology offers early assessment of drug safety risk, exposure, toxicokinetics (TK) and tolerability studies, dose range finding studies, safety biomarkers (transcriptomics, proteomics, metabolomics), and formulation assessment.
These assays are used to further define the toxicological and DMPK properties of potential leads and inform the decision process by effectively overcoming obstacles
Why work with us?
By identifying liabilities sooner, we can monitor and build SAR to enable us to re-engineer the lead molecules.  Together with our chemistry and computational chemistry colleagues, we will provide guidance on how to change the structure to fix any persistent liability in a lead series.
We provide expert guidance and problem-solving solutions. Our scientists don't just deliver data, but also provide the expertise to interpret the data generated and provide intellectual input to each individual project.
Well-validated, state-of-the-art assays and a comprehensive applied consultancy service to interpret in vitro Discovery Toxicology data and in vivo TK data. We have an established network of toxicology consultants and experts in the area who offer additional support to the most challenging of the projects.
We offer complete transparency. Throughout the course of a project, our clients have direct access to our data via our state of the art Informatics infrastructure to facilitate discussions and decision making.
We offer both FTE and FFS business models for Discovery Toxicology project support at competitive rates
We are your team at Sygnature Discovery.