CellCentric Lead Optimisation Campaign
CellCentric are developing new treatments for cancer based on their understanding of epigenetics. Having investigated over 50 potential drug targets, they have focused on small molecule inhibitors against histone acetyl transferases p300 and CBP.
Collaboration
Having worked with CellCentric on previous collaborations our experienced scientists undertook a rapid integrated structure based lead optimisation campaign to deliver selective potent inhibitors of histone acetyl transferases p300 and CBP. We delivered innovative medicinal chemistry alongside a comprehensive, diverse screen cascade of in vitro assay covering potency, selectivity, mode-of-action, ex vivo biomarker, in vitro ADME and bioanalysis. Lead compounds were further profiled in collaboration with our expert partners.
Deliverables
Our collaboration delivered CCS1477, a novel orally bioavailable selective inhibitor of histone acetyl transferases p300 and CBP
Chemistry scaled to 200 g giving quick access to preclinical studies
Differentiated target product profile versus competitor products, including the development of resistant cell lines (see figure)
CCS1477 retains activity in a BETi resistant 22Rv1 cell-line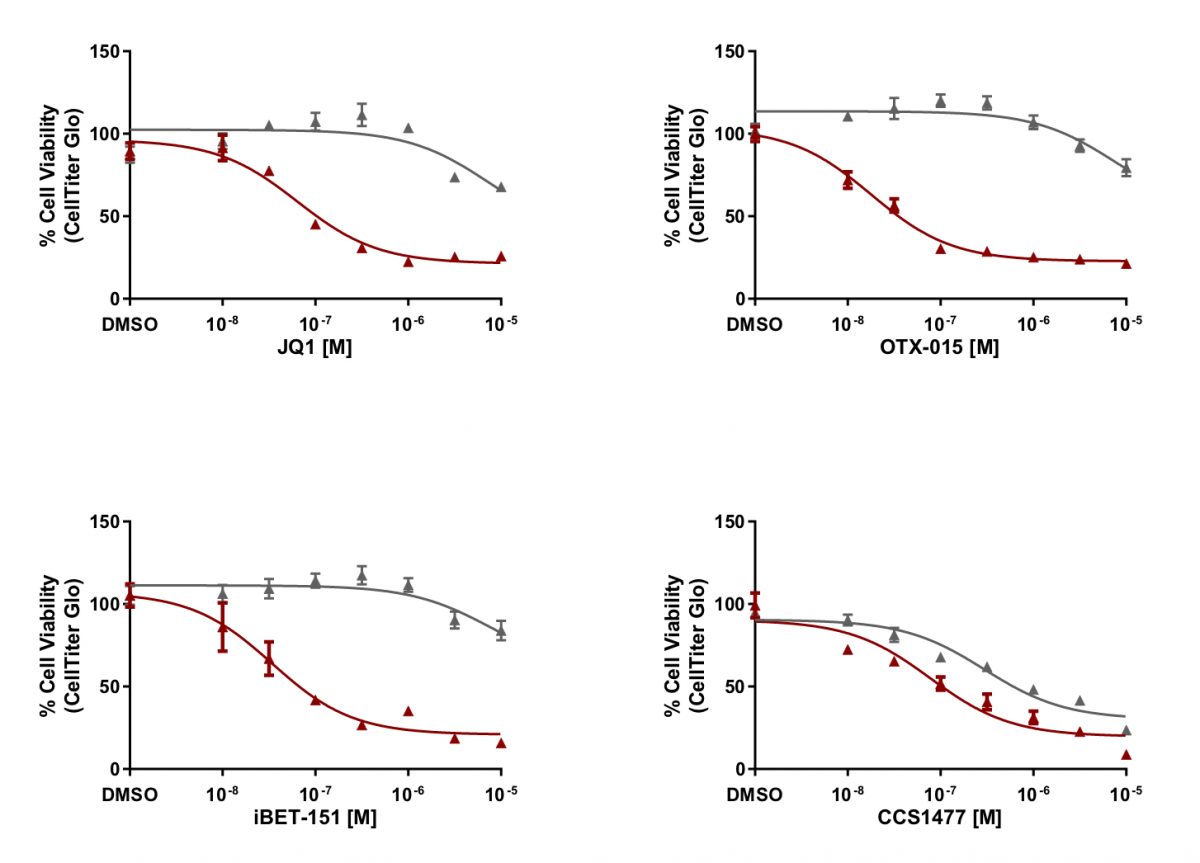 A JQ1 resistant cell line was generated by incubating 22Rv1 cells with increasing doses of either JQ1 (22Rv1-J1) or with vehicle (22Rv1-V1) over a 9 month period. Proliferation was measured with a cell viability assay (CellTiter Glo) after compound treatment for 72h.
22Rv1_V1
IC50 (µM)
22Rv1_J1
IC50 (µM)
Ratio
JQ1
0.06
7.3
122
JQ2
0.01
3.4
340
iBET-151
0.03
7.7
257
OTX-015
0.02
7.7
385

CCS1477

0.08

0.3

3.8

GNE-272
6
>10
NA
CPI-637
3.5
38
10.8
BETi differentiation
CCS1477 synergy with JQ1 in 22RV1 cell proliferation assay
CCS1477 degrades AR protein (FL & SV) but JQ1 has no effect at a comparative proliferation IC50
Cell line panel testing clearly demonstrates that BETi are more promiscuous compared to CCS1477
Press Release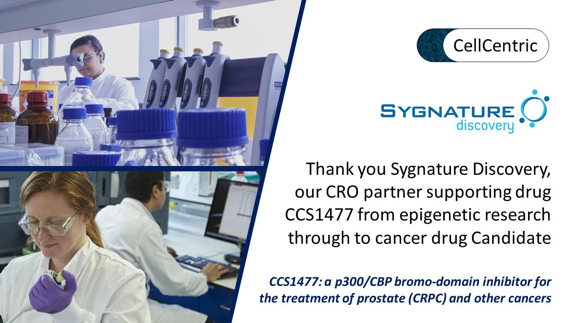 Publications with Sygnature
Neil Pegg, Nigel Brooks, Jenny Worthington, Barbara Young, Amy Prosser, Jordan Lane, David Taddei, Richard Brown, Gareth Harbottle, Jonathan Shannon, Silvia Paoletta, Karen E. Knudsen. Characterisation of CCS1477: A novel small molecule inhibitor of p300/CBP for the treatment of castration resistant prostate cancer. Poster, ASCO2017. http://www.cellcentric.com/media/uploads/files/ASCO_Poster_2017_FINAL.pdf