Sygnature Discovery's medicinal chemists design improved agents against RSV infection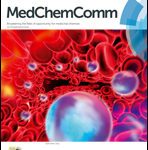 A recent publication in the Royal Society of Chemistry's MedChemComm (MedChemComm, 2018, DOI: 10.1039/C8MD00033F ), highlights the significant contribution made by some of Sygnature Discovery's medicinal chemists to the design of improved agents in the fight against infections caused by the respiratory syncytial virus (RSV).  The project was undertaken in collaboration with Pulmocide Limited, a company developing a range of first-in-class inhaled anti-infectives for the targeted treatment of life-threatening lung infections.
RSV is an enveloped RNA virus and is in the same family as the human parainfluenza viruses and mumps and measles viruses. RSV is one of the common viruses that cause coughs and colds in winter.  RSV usually causes mild respiratory infection in adults and children, but it can be severe in infants who are at increased risk of acute lower respiratory tract infection. RSV is the most common cause of bronchitis in children aged under 2 years.
Although in most case symptoms resemble the common cold, RSV can cause a severe or life threatening disease, especially in younger infants. Infection does not confer immunity however and continual re-infection throughout life is common. RSV is also increasingly recognised as a major contributor to excess winter mortality in the elderly in temperate climates, such as the UK. RSV outbreaks occur on a yearly basis (in the UK with a striking seasonality at the turn of the year).  Highly contagious, RSV transmission occurs by contact with infectious secretions via hand contamination and self-inoculation of the eyes, nose or mouth or contact with large droplets or aerosols or fomites.  More information on RSV may be found here.
Sygnature Discovery's Chemistry department is one of the largest and most experienced in the UK pharmaceutical sector. Comprising 120 medicinal chemists, 80% of whom have PhDs, the department works with clients across the world from hit identification, through hit-to-lead and lead optimisation to pre-clinical development candidate.  Since 2011, 11 compounds invented at Sygnature for clients have entered clinical trials in healthy volunteers and patients.  More information on Sygnature Discovery's Chemistry department may be found here.