Sygnature Discovery Expands Biophysics Capability with the Introduction of Biacore 8K SPR System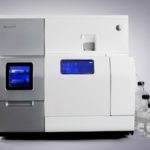 Sygnature Discovery, the UK's largest independent provider of integrated drug discovery resource and expertise, has enhanced its Biophysics capability with the addition of GE Healthcare's Biacore 8K SPR system to the Biacore T200 SPR system that the company already has in-house.
As the newest member of GE Healthcare's  Biacore family of products, the Biacore 8K efficiently delivers high quality binding data when screening and characterising small molecules and biologicals.  This high-sensitivity surface plasmon resonance (SPR) system rapidly provides kinetics and affinity data, thereby shortening time to results by up to eight times compared to single-needle systems.  The blend of system flexibility and throughput reduces the experimental cycle time, even for complex targets.
Dr Scott Pollack, Associate Director of Bioscience, at Sygnature Discovery commented:
"Biacore 8K is GE Healthcare's most advanced Biacore instrument.  With its eight injection needles, the system can handle 64 affinity titrations in 3-5 hours, so up to 128 titrations per day or 640 (320 for n=2) per week if run continuously.  Single concentration test runs (e.g. fragment screens) of 4 hours per 384 well plate, or up to 2,300 per day are possible.
In addition to the more rapid client data turnaround that this capacity allows, the 8-needle configuration and smart ABA injection algorithm also accelerates assay development by allowing a wide array of conditions to be tested in parallel (e.g., buffer scouting) and are ideal for compound competition (mode-of-action) analysis.
Adding Biacore 8K to our Biacore T200 means that Sygnature Discovery is one of the best equipped drug discovery CROs in the UK offering biophysical services".