Ground breaking news for Sygnature Discovery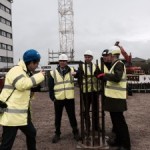 Wednesday October 7th 2015 became a historic day for Sygnature Discovery as the official 'ground breaking' ceremony took place on the construction site of the new 'Discovery' building in the heart of Nottingham. The new £30m building is being funded by Nottingham City Council and forms part of the renowned BioCity Nottingham biosciences incubator.
The Discovery building will be fitted with super high-tech bioscience and chemistry laboratories and Sygnature will take over ⅔ of the 50,000 sq.ft. space. When completed in Spring 2017, the facility will help to grow the life sciences sector in Nottingham and create and safeguard around 250 specialist bioscience jobs, with 700 more created over a 30-year period.
Sygnature Discovery's CEO & Founder, Dr Simon Hirst, commented: "The announcement of the new building could not have come at a better time for Sygnature. We have plans for significant expansion over the next couple of years and it will provide a real focus knowing that we will be accommodated in a 'state of the art' facility such as this. The continuing support of BioCity and Nottingham City Council is helping Sygnature to become more and more successful. This flag-ship new building is a magnificent example of this continuing commitment to support Science in Nottingham."
Operations Director at BioCity, Toby Reid said: "This is a real statement of intent for Nottingham as a leader in the life sciences sector. Not only have we ensured that a company of the standing of Sygnature Discovery has remained here, as a beacon of excellence in the sector, but we've also been able to create further space to accommodate our own growth and that of the next generation of innovative entrepreneurs.