LogD (Micro Shake-Flask)
Lipophilicity (distribution coefficient) is an important physicochemical property of a drug as it provides an understanding of how well a drug will cross lipid membranes (and thereby penetrate tissues), how well a drug will interact with a target protein, as well as help define a drug's pharmacokinetics and pharmacodynamics profile.
The micro shake-flask LogD7.4 assay is the gold standard assay and measures the lipophilicity of a test compound by assessing the ratio of the equilibrium concentrations of a dissolved test compound in a two-phase system consisting of an organic n-octanol phase and an aqueous buffer phase. The principal of the method is based on the Nernst partition law.
Sygnature's micro shake-flask LogD₇.₄ assay is based on the OECD guidelines that were adopted by the council in 1995, and uses a constant temperature, a volume ratio of n‑octanol/PBS of 1:1 or 1:10 that has been pre-saturated, and centrifugation to separate the two phases after incubation (to allow distribution of the test compound between the two phases and equilibrium to be reached). The aqueous and/or Octanol phase is then sampled and quantified by LC-MS/MS. A calibration curve is generated for each test compound. Verapamil is used as a positive control.
Protocol
| | |
| --- | --- |
| Compound requirements | 10mM DMSO, 60µL |
| Buffer and pH | Phosphate buffered saline 7.4 |
| Partition solvent | n-octanol |
| Ratio of buffer : Octanol | 10:1 (v:v) or 1:1 (v:v) PBS/Oct; other ratios available on request |
| Final DMSO % | 2 % |
| Replicates | 6 |
| Incubation Time | 600 rpm for 120 min at room temperature |
| Analysis Method | UPLC-MS/MS |
| Controls | Verapamil (positive control) |
| Data Delivery | LogD₇.₄ |
Results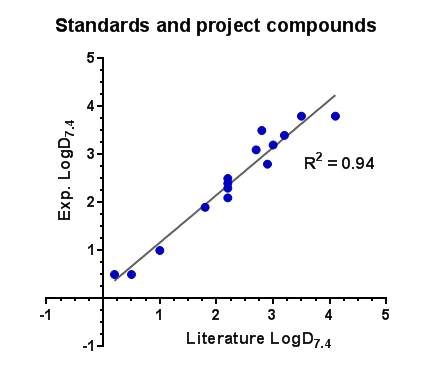 Figure 1 Comparison of Log D7.4 values generated in Sygnature's Log D7.4 shake flask assay with literature LogD7.4 values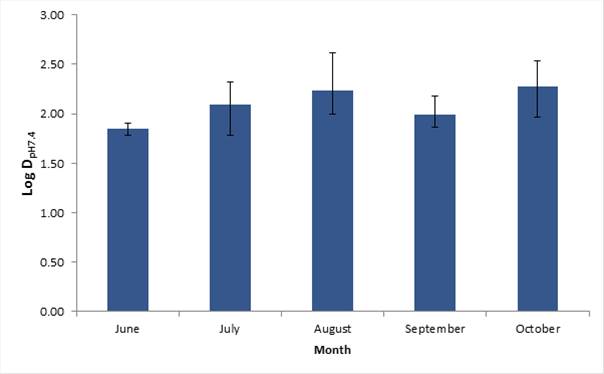 Figure 2 Inter-day reproducibility of LogDpH7.4 for a single test compound. The error bars represent the standard deviation of a range of values recorded in each month.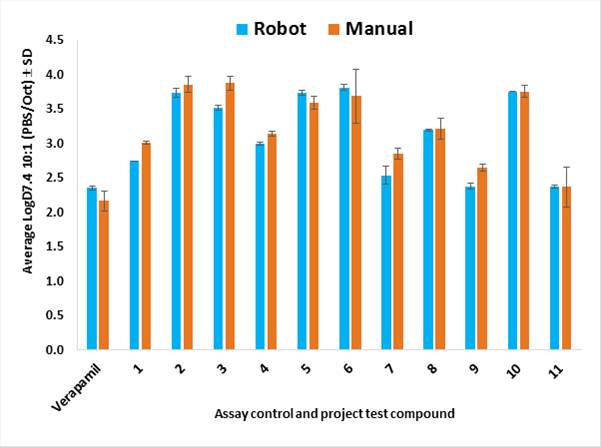 Figure 3 Comparison of LogD7.4 values generated using Sygnature's LogD7.4 micro shake-flask assay – automated versus manual. The error bars represent the standard deviation of six replicates.
About Us
The DMPK & Physical Sciences department at Sygnature Discovery is dedicated to understanding and optimising the absorption, distribution, metabolism and excretion of drug candidates by working in close partnership with clients and other departments within Sygnature to provide successful optimisation strategies.
We have extensive know-how and expertise to provide well validated, state-of-the-art assays and a comprehensive applied consultancy service for interpretation of the in vitro ADME and in vivo PK data.
Our corporate vision is to accelerate the discovery of new medicines, from the laboratory into development to treat patients.
Our DMPK mission is to deliver tailored DMPK expertise through innovation, quality and commitment.