Caco-2 Permeability
The human colon epithelial cancer cell line, Caco-2, is used as a model of human intestinal absorption of drugs. This model is suitable to test compound suitability for oral dosing, predict intestinal permeability and investigate drug efflux.
When cultured as a monolayer, Caco-2 cells differentiate to form tight junctions between cells to serve as a model of passive diffusion of compounds across the monolayer. Various uptake and efflux transporters are expressed in Caco-2 cells.
Sygnature's Caco-2 Permeability uses the CacoReady™ Kit from ReadyCell S.L. (Barcelona, Spain), a ready-to-use cell-based assay for rapid in-vitro assessment of a drug's permeability. Differentiated and polarized Caco-2 cells (21-day system) are plated on a 96-transwell permeable system as a single monolayer to allow for automated high throughput screening of compounds. Drug transport is assessed in both directions (apical to basolateral (A-B) and basolateral to apical (B-A)) across the cell monolayer (Figure 1). The buffer used for the assay does not include HEPES, so as to minimise the inhibitory effect on uptake transporters (Luo et al., 2010).
Test compound concentrations are quantified using a calibration curve following analysis by LC-MS/MS, and the apparent permeability coefficient (Papp) and efflux ratio of the compound across the monolayer are calculated. The efflux ratio is used as an indicator of active efflux.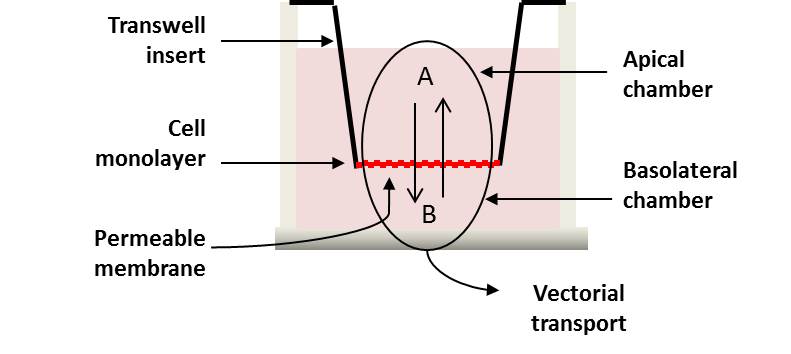 Figure 1 Schematic illustrating the Transwell of CacoReady™ Multiwell Insert
Protocol
Compound requirements
10 mM DMSO, 100µL
Test Article Concentrations
10 µM
Buffer
HBSS buffer at pH7.4 or 6.5-7.4 (apical-basolateral – recommended for acidic compounds); alternate pH's on request
Replicates
Triplicate
Incubation Time
2 hours at 37°C in a CO2 incubator
Analysis Method
LC-MS/MS
Controls
Digoxin, quinidine or other positive MDR1 efflux markers on request and propranolol (high permeability marker)
Cell monolayer integrity marker
Lucifer yellow
Data Delivery
Papp (AtoB and BtoA)

Efflux ratio

Mass Balance
The permeability coefficient (Papp) is calculated from the following equation: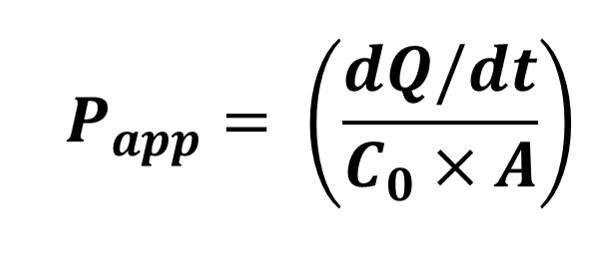 Where dQ/dt is the amount of compound in basal (A-B) or apical (B-A) compartment as a function of time (nmol/s). C0 is the initial concentration in the donor (apical or basal) compartment (Mean of T=0) (nmol/mL) and A is the area of the transwell (cm2).
The efflux ratio is then calculated as: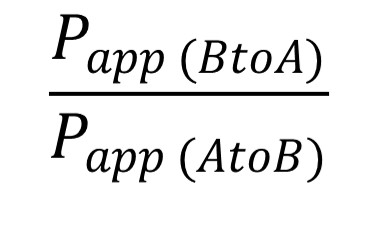 Results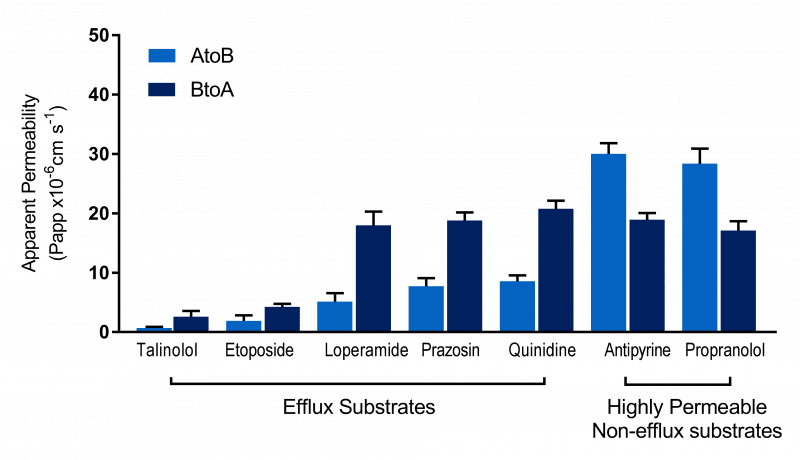 Figure 2 Apparent permeability coefficients for control compounds tested in Sygnature Discovery's Caco-2 assay. Known efflux substrates were tested alongside highly permeable substrates with no known efflux potential. Data represent mean ± S.E.M, each compound was tested in triplicate in a minimum of 3 independent assays (n=3).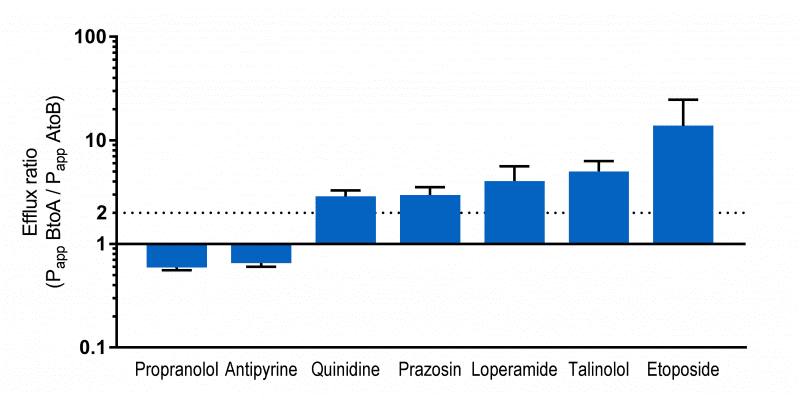 Figure 3 Efflux ratio's for compounds tested in Sygnature Discovery's Caco-2 assay. Compounds with known efflux potential typically have an efflux ratio ≥ 2, compounds with no efflux potential typically have efflux ratios ≤ 1.
About Us
The DMPK & Physical Sciences department at Sygnature Discovery is dedicated to understanding and optimising the absorption, distribution, metabolism and excretion of drug candidates by working in close partnership with clients and other departments within Sygnature to provide successful optimisation strategies.
We have extensive know-how and expertise to provide well validated, state-of-the-art assays and a comprehensive applied consultancy service for interpretation of the in vitro ADME and in vivo PK data.
Our corporate vision is to accelerate the discovery of new medicines, from the laboratory into development to treat patients.
Our DMPK mission is to deliver tailored DMPK expertise through innovation, quality and commitment.
References
Luo et al. (2010) Effect of HEPES buffer on the uptake and transport of P-glycoprotein substrates and large neutral amino acids. Mol Pharm; 7(2); 412-420.