Binge Eating Disorder
Sygnature has successfully developed and validated a new rat model of binge-eating disorder. Rats are given free access to normal rat diet and irregular access to chocolate for limited periods (2 h). After 3-4 weeks, robust binge-eating develops.
We have tested lisdexamfetamine, the first and only drug approved by the FDA for the specific treatment of binge-eating disorder, in our rodent model. Lisdexamfetamine preferentially reduces intake of highly palatable food in rats trained to binge-eat. The model can be used for acute or sub-chronic evaluation of test compounds.
Case Study of Binge Eating disorder
The development of binge-eating disorder in rats given irregular, intermittent access to chocolate; and the effect of acute administration of lisdexamfetamine on food intake during a binge episode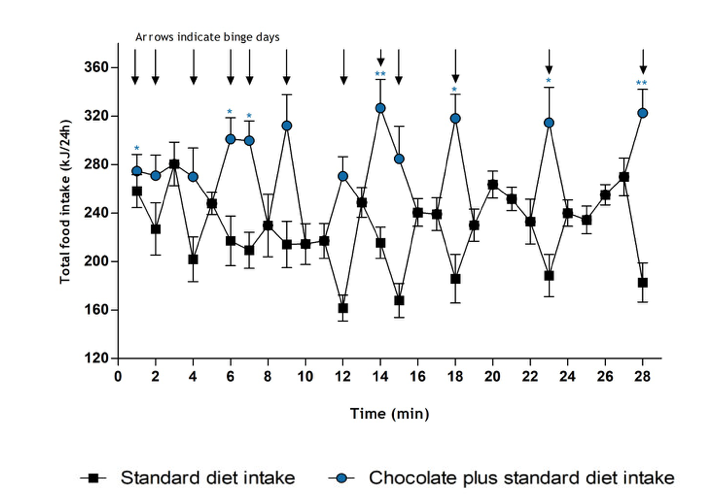 n=5. *p<0.05, **p<0.01, ***p<0.001 versus the control group which were given
empty feeding jars instead of chocolate (data for the control group not shown)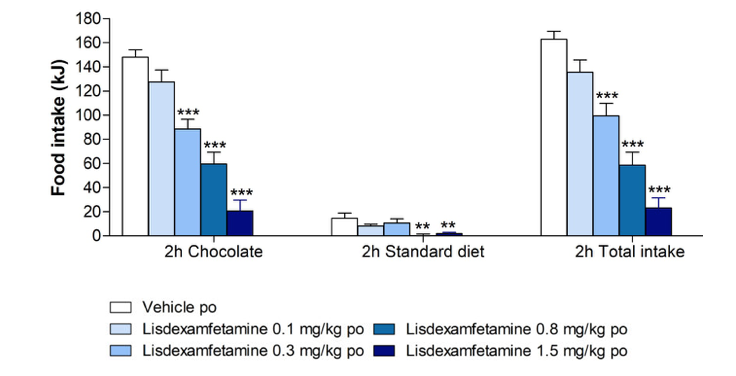 n = 8.  Significant differences versus the vehicle-treated controls are denoted by * **p<0.01 and
***p<0.001. Lisdexamfetamine 0.3 mg/kg po reduced chocolate binging without simultaneously
reducing consumption of the standard diet. Lisdexamfetamine did not significantly alter 24 h body weight.
We have also developed a food-associated conflict test to measure compulsivity in binge-eating rats, and a delay-discounting model to evaluate impulsivity and intolerance of delayed reward in binge-eating rats. Both models have been validated with lisdexamfetamine and can be used to evaluate the compulsivity and impulsivity components of binge-eating disorder psychopathology.