Legendary Werewolf: A Freak Chemistry Accident at Sygnature!
During a routine tour of the chemistry labs here at BioCity, Nottingham, Sygnature's Senior VP – Alliance Management, Stuart Onions, accidentally drank a large amount of an untested new therapeutic aimed at curing baldness, when he mistook it for his morning coffee.
The formula, which had shown promising signs of restoring follicular vigour in mice, caused no effect at the time of ingestion. Three days later, however, when the full moon rose, Stuart started to feel very strange.
"At first, it was just a tingling on my scalp," Stuart commented. "I rubbed my head and found that the silky smoothness I've become accustomed to over the years had been replaced by a rough bristle. I ran to the mirror and, there before my eyes, I watched as my beautiful locks returned. It was exciting at first, but it didn't stop there…"
Over the next several minutes, Stuart watched himself transform into a mythic beast of legend – the werewolf.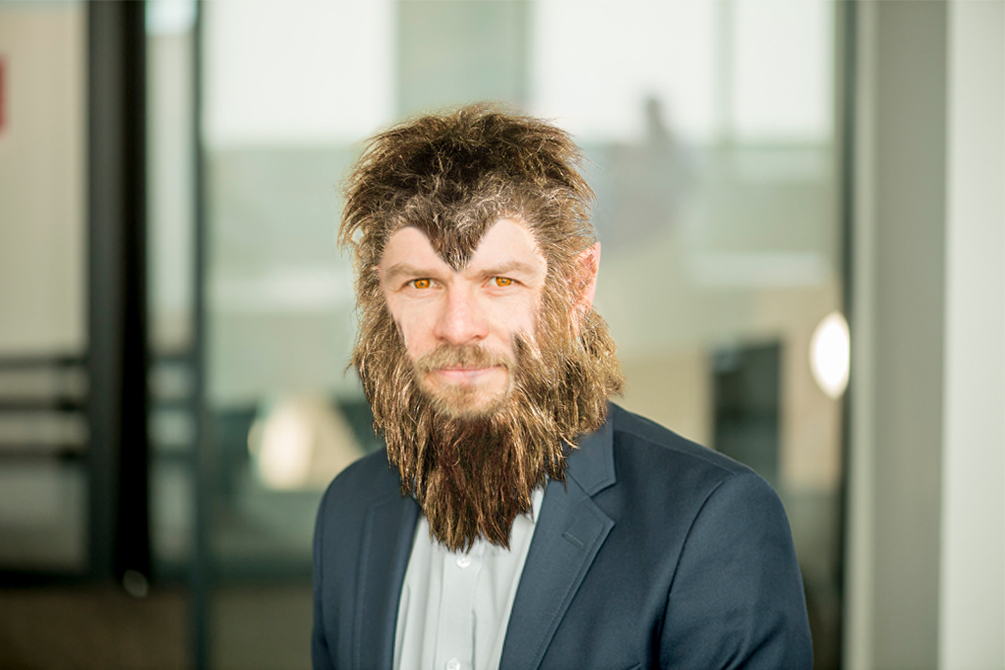 "Obviously, the bloodthirst was inconvenient at first, but in reality it's only a few days a month and it's very manageable. And while the teeth and claws thankfully disappear with the full moon, the mane stays all month long. I've actually become quite attached to it. With the hairdressers closed, everyone looks a mess anyway, so I barely get a second glance on the street."
Of course, Sygnature's HR Department had a nightmare on their hands as they tried to figure out how to fit a werewolf into the company's health and safety policy. But after a thorough risk assessment they negotiated a new flexible working arrangement with Stuart that made both parties happy.
"Sygnature have been great," Stuart continued. "I work from home for a few days of each lunar cycle, when I'm not my usual self. And the junior scientists have always been quite scared of me anyway, so I've not seen much of a change in the day to day around the office. I think the howling can be quite irritating at times, but overall everyone has been really accommodating of my new habits."
"I actually think being a werewolf has made me better at my job. These days, if a client is being difficult, I just let out this sort of low growl, and I find that my negotiations are wrapped up much quicker than they used to be."
Happy April Fool's Day, everyone.
And thanks to Stuart Onions for being such a legendary good sport!