Sygnature Discovery's drug discovery capabilities enhanced by acquisition of BMG LABTECH PHERAstar® FSX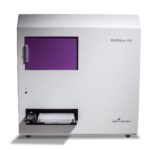 Sygnature Discovery Limited, the UK's largest independent provider of integrated drug discovery resource and expertise, today announced the addition of the BMG LABTECH PHERAstar® FSX into its portfolio of advanced in vitro screening capabilities.
In order to maximise assay performance during drug discovery projects, Sygnature is striving to add the latest screening technologies that will facilitate an increase in assay through-put and minimise sample usage, whilst maintaining assay quality and controlling costs.  The PHERAstar® FSX is the most sensitive microplate plate reader currently on the market and is able to perform all leading non-isotopic detection technologies and has unmatched sensitivity in Fluorescence Intensity and Fluorescence Polarization modes.  In addition, the reader offers an ultra-high dynamic range in High Performance Luminescence enabling greater flexibility and measurement precision.
The instrument is equipped with Simultaneous Dual Emission in all read modes, top and bottom reading with automatic switching, an advanced cell monolayer scanning function and temperature control (25 – 45°C).  Also with BMG LABTECH's Stackers, 50 plates can be read at one time making the instrument fully enabled for both medium- and high-throughput screening.
Read Modes routinely used at Sygnature Discovery:
High Performance Luminescence
Nano Bioluminescence Resonance Energy Transfer (nBRET)
Time Resolved Fluorescence including TR-FRET/HTRF®
Fluorescence Polarization
Fluorescence Intensity
AlphaScreenTM
AlphaLISATM
Absorbance (UV/Vis Spectral Scanning) 220-1000nm
Time Resolved Fluorescence Resonance Energy Transfer (TR- FRET) is based on the transfer of energy between two fluorophores, a donor and an acceptor.  Combining FRET technology with time-resolved measurement of fluorescence eliminates short-lived background interfering fluorescence.

Example screening data for 2 compounds run on the BMG LABTECH PHERAstar® FSXat Sygnature