Sygnature Discovery Celebrates 10 Years of Drug Discovery!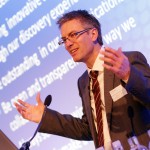 On Tuesday 7th October 2014 Sygnature Discovery celebrated its 10th anniversary by hosting a symposium on 'Aspects of Modern Drug Discovery'. Held at Nottingham's East Midlands Conference Centre, seven distinguished scientific speakers were invited to talk to a packed audience of two hundred guests. The event came to a close with a drinks reception to celebrate Sygnature's achievements over the past decade in helping to bring new medicines to patients.
CEO & Founder, Dr Simon Hirst welcomed delegates to the event.