The Adoption of IncuCyte® ZOOM enhances Sygnature Discovery's Capabilities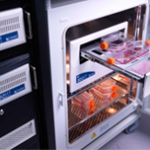 Sygnature Discovery Limited, a company which undertakes integrated drug discovery projects for pharmaceutical and biotechnology companies worldwide, from target validation to development candidate, today announced the addition of the IncuCyte® ZOOM real-time quantitative live-cell analysis technology into its Bioscience Department.
In July 2015, Sygnature and Essen BioScience Ltd., a world leader in the field of cell-based in vitro assays and instrumentation, announced that they had established a strategic alliance to incorporate Essen's unique phenotypic assay, live-cell imaging and ion channel technologies into Sygnature's integrated drug discovery projects. This alliance has been very productive and has also resulted in the addition of the IncuCyte® ZOOM System by Sygnature into its in-house capabilities.
IncuCyte® ZOOM offers plate-based continuous cell imaging within a controlled tissue-culture environment, allowing real time quantitative live-cell, non-invasive analysis. Assaying cellular systems using live-cell imaging affords an array of advantages when compared to classical single end-point functional cellular assay read-outs; these include, label-free analysis, no cell disruption during analysis, multiplexing and kinetic data generation. The adoption of the IncuCyte® ZOOM System has enhanced Sygnature's research expertise across a broad range of therapeutic areas including oncology, immunology, inflammation and neuroscience.
IncuCyte® ZOOM assays already available at Sygnature include:
Cell migration and invasion

Quantification of cell migration across plastic or biomatrix coating in real time
Assessment of compound treatment effects on full time course migration profiles

Angiogenesis

Kinetic measurements of vascular tube formation utilising endothelial cell/fibroblast co-culture models (demonstration of proliferation, migration, differentiation and anastomosis phases)

Proliferation, cytotoxicity, and apoptosis

Real-time measurements of live cells

Immuno-oncology applications

Including Cytotoxic T cell killing and Antibody-dependent cell-mediated cytotoxicity assays (ADCC)

Neuronal studies

Label-free measurement and quantitation of neurite dynamics in real-time. (neurite length, branching and retraction, cell body number)

3D biology:

Monitoring spheroid formation and growth in real-time
Commenting on the incorporation of the IncuCyte® ZOOM System into Sygnature's Bioscience Department, Dr Simon Hirst, Sygnature's Founder and CEO said, "In order to maintain our edge in integrated drug discovery, Sygnature is constantly evaluating new technologies and strategic alliances which enhance and complement our capabilities. The strategic alliance with Essen BioScience has worked very well for both parties. We were so impressed by IncuCyte® that we invested in this technology and the training required to build this capability. Already a significant number of discovery projects have benefited from the high quality imaging data that we are generating. Sygnature offer its value adding live-cell imaging expertise as both a standalone capability, or as part of an integrated drug discovery collaboration."