Thoughts on the challenges of treating ovarian cancer
At the American Association for Cancer Research meeting in New Orleans this week, Sygnature are sponsoring a PhD student, Rita A Avelar, to present their work, as part of the AACR's "Scholar in Training" award. Rita this year will be presenting a poster on potential new approaches to certain types of ovarian cancer.
Despite significant research, ovarian cancer remains at the "problematic to treat" end of the cancer spectrum, especially when diagnosed late or later in life, with limited options and significant risk of relapse after therapy.  Early diagnosis has helped improve survival in younger women, but for those diagnosed in later years the prognosis is less encouraging.  Only about a fifth of cancers have an identifiable and "actionable" genetic mutation (such as loss of the BRCA gene which can sensitise to PARP inhibitors) and whilst often considered a single disease, ovarian cancer consists of perhaps half a dozen different subtypes.
Whilst the newer therapies such as bevacizumab and the PARP inhibitors have helped for some, for the 60% or so of patients with the high grade Serous Ovarian Cancer (HGSOC) subtype, relapses are frequent with few further therapeutic options.
Having had close friends and colleagues who have battled this particular disease, I've seen some of these challenges play out in real time, and seen the hope and benefits that new therapies, accessed through early clinical trials, can bring to women with ovarian cancer.  This new work is still in the early stages, but suggests that activation of the phosphatase PP2A, a potential tumour suppressor, may offer a new way of targeting these tumours. Interestingly, PP2A is thought to help repress oncogenic signalling through AKT, Raf and MEK, so activators of this enzyme have been often sought, but seldom reported.
This is an unfolding story I'll watch with interest.  In a disease where new therapeutics are scarce and responses are often short-lived, potential paths forward such as this one are urgently needed.
If you will be attending AACR this year, be sure to visit Rita's poster, located at A3340, set to be unveiled at 13:00pm on Tuesday 12th April.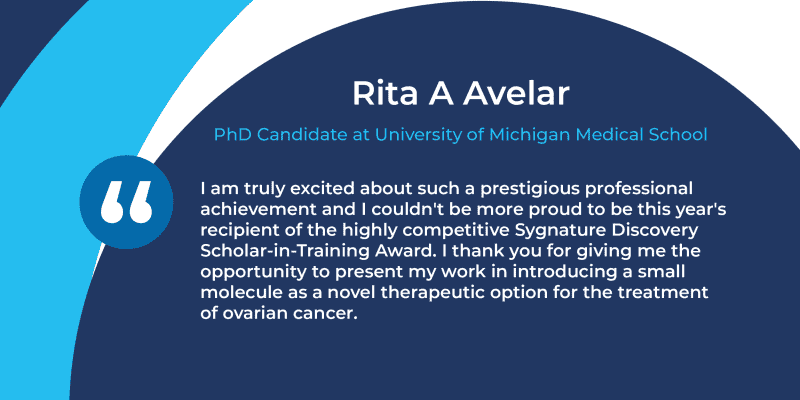 ---
Author: Allan Jordan, Vice President, Oncology Drug Discovery, Sygnature Discovery