Hepatocyte Metabolic Stability
The liver is the major site of drug metabolism in the body, with well over 50 % of marketed drugs are eliminated via hepatic mediated metabolism. Hence, measurement of the rate of clearance and the identity of the metabolites of a drug is important.
In addition, in support of projects, the rate of clearance values can be used to rank compounds and to predict in vivo hepatic clearance values. Hepatocytes from a variety of species can be used to understand inter-species differences and are essential when generating Dose to Human predictions. Unlike microsomal stability assays, both Phase I and Phase II metabolism data can be generated and the rate of clearance and their metabolites formed are more likely to reflect the in vivo situation.
Sygnature's hepatocyte stability assay monitors the disappearance of a substrate in the presence and absence of hepatocytes. All assays have two replicates per compound and are validated by the inclusion of up to 4 species-specific positive control compounds. Data output consists of mean intrinsic clearance (Clint) and half-life (t1/2) measurements.
 Protocol
| | |
| --- | --- |
| | |
| Compound requirements | 10 mM in DMSO, 10uL |
| Test Article Concentration | 1 µM |
| Hepatocyte Concentration | 0.5 x 106 cells / mL |
| Incubation Conditions | Up to 60min  at 37°C |
| Time Points | 0, 10, 20, 30, 45, 60 min |
| Analysis Method | LC-MS/MS |
| Controls | 4 Positive controls (species dependent) |
| Data Delivery | Clint (ml/min/1×106 cells), Half-life (min) |
Results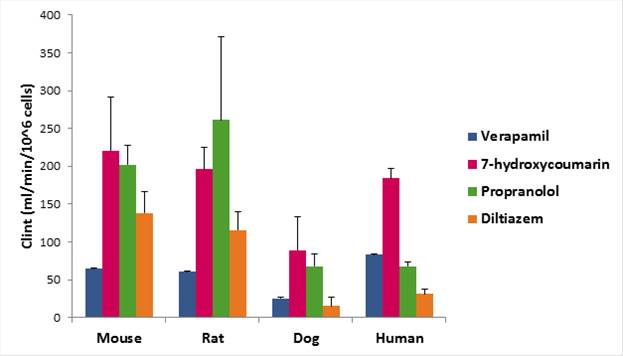 Figure 1 Control compound CLint data for multiple species, N=5 experiments.
About Us
The DMPK & Physical Sciences department at Sygnature Discovery is dedicated to understanding and optimising the absorption, distribution, metabolism and excretion of drug candidates by working in close partnership with clients and other departments within Sygnature to provide successful optimisation strategies.
We have extensive know-how and expertise to provide well validated, state-of-the-art assays and a comprehensive applied consultancy service for interpretation of the in vitro ADME and in vivo PK data.
Our corporate vision is to accelerate the discovery of new medicines, from the laboratory into development to treat patients.
Our DMPK mission is to deliver tailored DMPK expertise through innovation, quality and commitment.