Medium and High Throughput Screening
Sygnature Discovery supports preclinical discovery projects from Target Validation through to Lead Optimisation and candidate nomination, across a broad range of Therapeutic Areas and target classes. To support the breadth of early stage discovery projects Sygnature has developed a comprehensive Hit Identification platform that is supported by medium and high-throughput screening capabilities.
Sygnature's scientists are experts at designing bespoke hit finding solutions, with tailored screening approaches which encompass Biochemical, Biophysical and Cell-based Assays, to support your early stage projects. Sygnature have invested in state of the art automation allowing in-house Medium Throughput Screening (MTS) of up to 20,000 compounds per screen. We have also partnered with a state of the art High Throughput Screening (HTS) facility, Pivot Park Screening Centre, who perform HTS screens using assays developed and validated at Sygnature Discovery. Our automation platforms allow rapid and cost-effective identification of hit compounds from either diverse commercial libraries, custom synthesised focused Libraries or Sygnature's proprietary Fragment Library.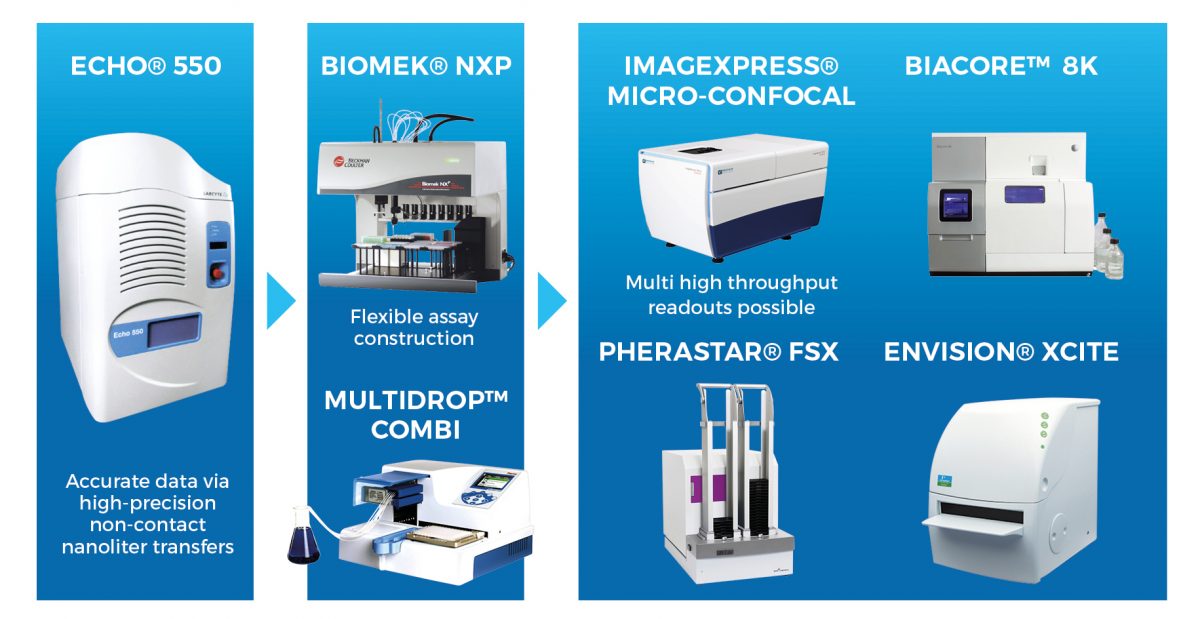 When designing robust and reproducible HTS and MTS assays, Sygnature's experienced scientists:
Perform careful evaluation of potential parameters that may affect the assay and risk of false positives
Compound delivery routes, such as the use of high precision acoustic nanoliter dispensing
Flexible assay construction to ensure the assay can respond to changing project demands
Evaluate a wide range of assay readouts

High Content Imaging (ImageXpress® Micro-Confocal)
Fluorescence/luminescent (PHERAstar® FSX/EnVision® platforms)
SPR (Biacore™ 8K)

Assess data analysis and reporting options such as the use of Dotmatics/Vortex or Spotfire, to ensure data can be easily interpreted and that the client has full and transparent access to all necessary information.