Tubidimetric Solubility
Low solubility can be a major obstacle during drug discovery and development, as low solubility can impact the generation of quality in vitro DMPK or biology data, can cause issues in the generation of an appropriate formulation for in vivo pharmacokinetic studies or can cause issues with drug absorption following oral dosing in vivo. If the solubility is known, then solutions can easily be made to the correct concentrations.
The turbidimetric solubility assay is a discovery screening assay and calculates the kinetic solubility of a test compound by measuring its turbidimetry at seven concentrations and determining when a validated threshold is surpassed. This measurement provides Log S which is then converted into a solubility value using the following equation: S = 10Log S.
For most test compounds, a solubility of >100 µM is sufficient to determine high solubility, however, if required the assay may return results up to 200 µM if 20mM stock solution is provided. Nicardipine is used as a positive control compound.
Protocol
| | |
| --- | --- |
| Compound requirements | 10 mM DMSO, 50 µL |
| Buffer and pH | Phosphate buffered saline at pH7.4 |
| Test Article Concentrations | 7 point curve from 0.2 to 100 µM |
| Replicates | Triplicate |
| Incubation Time | 5 min at 25°C under shaking conditions; alternate times available on request |
| Analysis Method | UV spectrophotometry at 620nm |
| Final DMSO Concentration | 1 % |
| Controls | Nicardipine hydrochloride |
| Data Delivery | Estimated Solubility (µM) |
Results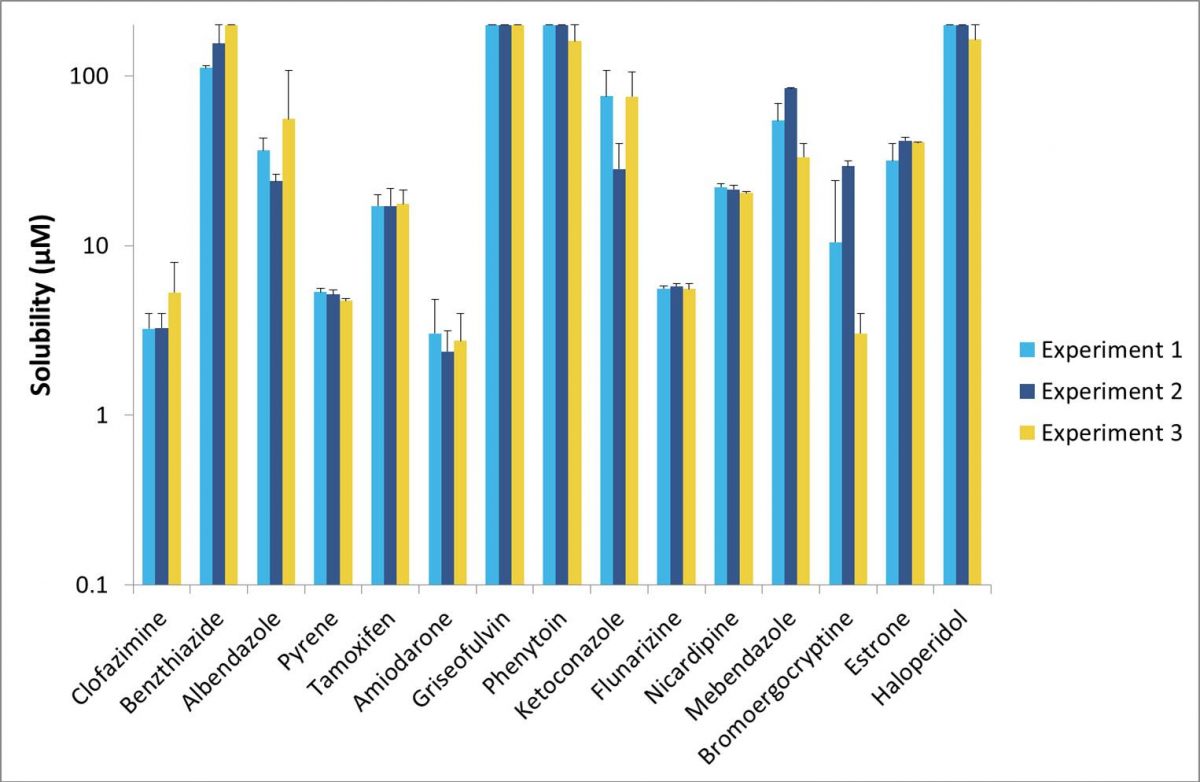 Figure 1 Example of a set of 15 compounds solubility measurements using Sygnature's Turbidimetric Kinetic Solubility method. The error bars represent the standard deviations of 3 replicates.
About Us
The DMPK & Physical Sciences department at Sygnature Discovery is dedicated to understanding and optimising the absorption, distribution, metabolism and excretion of drug candidates by working in close partnership with clients and other departments within Sygnature to provide successful optimisation strategies.
We have extensive know-how and expertise to provide well validated, state-of-the-art assays and a comprehensive applied consultancy service for interpretation of the in vitro ADME and in vivo PK data.
Our corporate vision is to accelerate the discovery of new medicines, from the laboratory into development to treat patients.
Our DMPK mission is to deliver tailored DMPK expertise through innovation, quality and commitment.