Steatosis
Steatosis describes increased accumulation of lipids, mainly triglycerides, in the liver and can be induced by a number of factors including pre-existing conditions, pregnancy and exposure to certain xenobiotics1.
These events are usually present as large cytoplasmic macro vacuoles which displace the nucleus but more rarely, and often with more severe consequences, present as small microvesicles which do not impact cellular organisation2.
Macro vacuolar steatosis typically results in benign hepatic lesions but microvesicular steatosis can result in chronic inflammatory events such as cirrhosis which can be associated with acute liver failure, encephalopathy and hypoglycaemia which in some patients can potentially prove to be fatal3.
The pathogenesis of steatosis is complex and multifactorial with several mechanisms involving the disturbance of hepatic metabolic processes have been demonstrated34. Whilst the accumulation of lipids is not necessarily pathological it can serve as indicator for more severe hepatic events. It is also of note that lipid accumulation events are often reversible following cessation of treatment.
Adverse drug-induced effects, such as steatosis, have led to the disruption of a number of clinical trials (e.g. fialuridine), post market withdrawal (e.g. perhexiline) and black box warnings restricting use (e.g. valproic acid)4. As a result, early screening of candidates with steatosis inducing potential could be advantageous strategy for candidate selection and risk management during drug development.
Protocol
Compound requirements
50µL at 50-100 mM in DMSO or equivalent solid
Test Article Concentrations
8-point series  in duplicate
Test System
HepG2 or Primary Human Hepatocytes
Incubation Time
24 hours at 37°C
Analysis Method / Instrument
High Content Imaging (ImageXpress, Molecular Devices)
Control Compounds
Vehicle Control: 0.5% DMSO

Positive Control: Fluoxetine

Negative Control: Acetaminophen

Data Delivery
·          EC50 values

·          Additional outputs available at request

(e.g. dose response curves, image outputs and analyses)
Results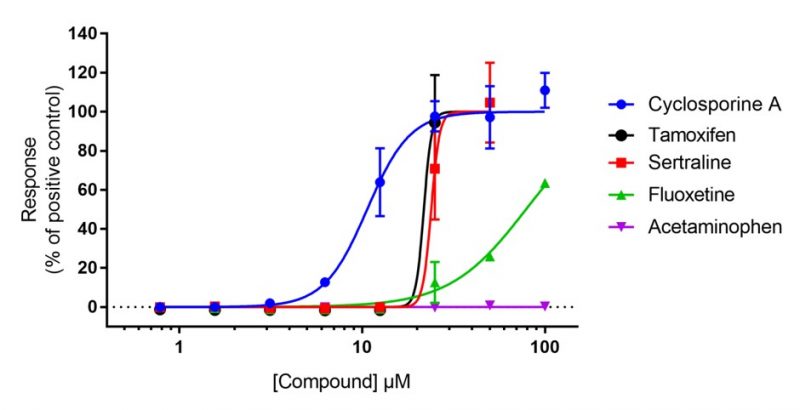 Figure 1. Representative dose response curves in HepG2 for known steatosis inducers cyclosporine A, tamoxifen and sertraline. Fluoxetine displays moderate potential for inducing steatosis whilst acetaminophen displays no liability.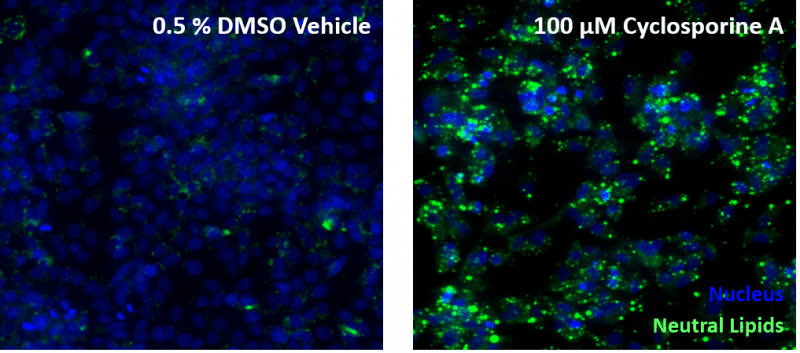 Figure 2. Increased intracellular accumulation of neutral lipids is observed after incubation with known steatosis inducer, Cyclosporine A, when compared to the DMSO vehicle control in HepG2 cells. Cell nuclei are counterstained with Hoescht.
References
Donato, M. T., Tolosa, L., Jiménez, N., Castell, J. V. & Gómez-Lechón, M. J. High-content imaging technology for the evaluation of drug-induced steatosis using a multiparametric cell-based assay. J. Biomol. Screen. 17, 394–400 (2012).
Vilgrain, V. et al. Hepatic steatosis: A major trap in liver imaging. Diagn. Interv. Imaging 94, 713–727 (2013).
Begriche, K., Massart, J., Robin, M. A., Borgne-Sanchez, A. & Fromenty, B. Drug-induced toxicity on mitochondria and lipid metabolism: Mechanistic diversity and deleterious consequences for the liver. J. Hepatol. 54, 773–794 (2011).
Teresa Donato, M. & Jose Gomez-Lechon, M. Drug-induced Liver Steatosis and Phospholipidosis: Cell-Based Assays for Early Screening of Drug Candidates. Curr. Drug Metab. 13, 1160–1173 (2012).
About Us
The DMPK & Physical Sciences department at Sygnature Discovery is dedicated to understanding and optimising the absorption, distribution, metabolism and excretion of drug candidates by working in close partnership with clients and other departments within Sygnature to provide successful optimisation strategies.
We have extensive know-how and expertise to provide well validated, state-of-the-art assays and a comprehensive applied consultancy service for interpretation of the in vitro ADME and in vivo PK data.
Our corporate vision is to accelerate the discovery of new medicines, from the laboratory into development to treat patients.
Our DMPK mission is to deliver tailored DMPK expertise through innovation, quality and commitment.