Phospholipidosis
Drug-induced phospholipidosis (PLD) is an adverse drug reaction characterised by the intracellular accumulation of phospholipids and the appearance of cytosolic lamellar bodies.
It is recognised by the pharmaceutical industry and regulatory bodies as a significant challenge for drug development due to the lack of mechanistic understanding of the toxicities associated with drug-induced PLD.
In vitro data suggest significant cellular dysfunction occurs during drug-induced PLD including; impaired lysosomal protein degradation, decreased pinocytosis and endocytosis, increased free radical formation and the suppression of immune responses1. However, a countervailing view is that drug-induced PLD is an adaptive tissue response to cationic amphiphilic drugs (CADs) and not necessarily a toxicological response itself2.
The early detection of probable PLD inducers during drug discovery is an important mitigation strategy to minimise the development of medicines with PLD-inducing potential. The FDA has highlighted phospholipidosis as a key "scientific priority area"3 and a recent FDA briefing document highlights the importance of PLD as a potential liability indicator for drug-induced liver injury4.
Protocol
Compound requirements
50µL at 10 mM in DMSO or equivalent solid
Test Article Concentrations
8-point series  in duplicate
Test System
HepG2 or Primary Human Hepatocytes
Incubation Time
24 hours at 37°C
Analysis Method / Instrument
High Content Imaging (ImageXpress, Molecular Devices)
Control Compounds
Vehicle Control: 0.3% DMSO

Positive Controls: Fluoxetine, Sertraline

Data Delivery
EC50 values, dose-response curves, image outputs and analyses.
Results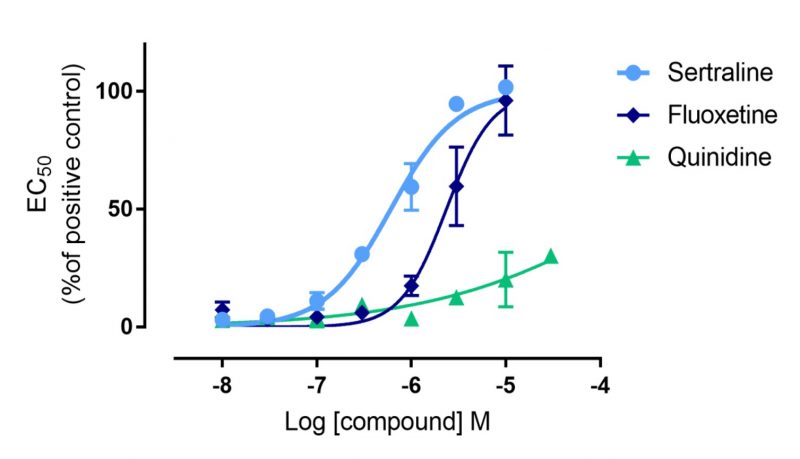 Figure 1. Representative dose-response curves for known phospholipidosis inducers Sertraline and Fluoxetine. Quinidine is included as a moderate inducer.

Figure 2. Increased intracellular accumulation of phospholipids at increasing concentrations of known PLD-inducing agent Fluoxetine in HepG2cells. Cell nuclei are counterstained with Hoescht.
About Us
The DMPK & Physical Sciences department at Sygnature Discovery is dedicated to understanding and optimising the absorption, distribution, metabolism and excretion of drug candidates by working in close partnership with clients and other departments within Sygnature to provide successful optimisation strategies.
We have extensive know-how and expertise to provide well validated, state-of-the-art assays and a comprehensive applied consultancy service for interpretation of the in vitro ADME and in vivo PK data.
Our corporate vision is to accelerate the discovery of new medicines, from the laboratory into development to treat patients.
Our DMPK mission is to deliver tailored DMPK expertise through innovation, quality and commitment.
References
Shayman, J. A. & Abe, A. Drug induced phospholipidosis: An acquired lysosomal storage disorder. Biochim. Biophys. Acta – Mol. Cell Biol. Lipids 1831, 602–611 (2013).
Reasor, M. J., Hastings, K. L. & Ulrich, R. G. Drug-induced phospholipidosis : issues and future directions. 4–18 (2006).
FDA. FDA Projects in Scientific Priority Areas. (2009).
FDA. FDA Briefing Document: Solithromycin Oral Capsule and Injection. (2016).