OATP1B1 and OATP1B3 inhibition
OATP1B1/OATP1B3 (Organic Anion Transporter Protein B1 and B3) are uptake transporters involved in the transport and disposition of endogenous and exogenous compounds. Expressed exclusively on the sinusoidal side of hepatocytes, these transporters are responsible for the uptake of endogenous and exogenous compounds from circulation into the liver.
Drugs that are inhibitors of OATP1B1 /B3 may fall liable to drug-drug interactions (DDI) as these transporters are involved in the transport of many drug classes, notably statins.
Sygnature's OATP assays measure the uptake of the substrate estradiol 17β-D-glucuronide into ready-plated HEK293 cells expressing the transporter. The substrate and a range of test compound concentrations are added to the cells.
Rifampycin is used as the model inhibitor for both isoforms along with gemfibrozil, erythromycin as specific OATP1B1 inhibitors or ritanovir, methotrexate as specific OATP1B3 inhibitors.
Protocol
Compound requirements
10 mM DMSO, 50µL
Substrate
0.1 μM estradiol 17β-D-glucuronide
Test Article Concentrations
9-point IC50 in duplicate
Incubation Time
15 min at 37°C CO2incubator
Test System
Ready Plated HEK293 expressing OATP1B1/B3
Analysis Method
Radiometric; Liquid Scintillation Counting
Controls
Rifampycin (non-selective)

Gemfibrozil, erythromycin (OATP1B1)

Ritanovir, methotrexate (OATP1B3)

Data Delivery
IC50
Results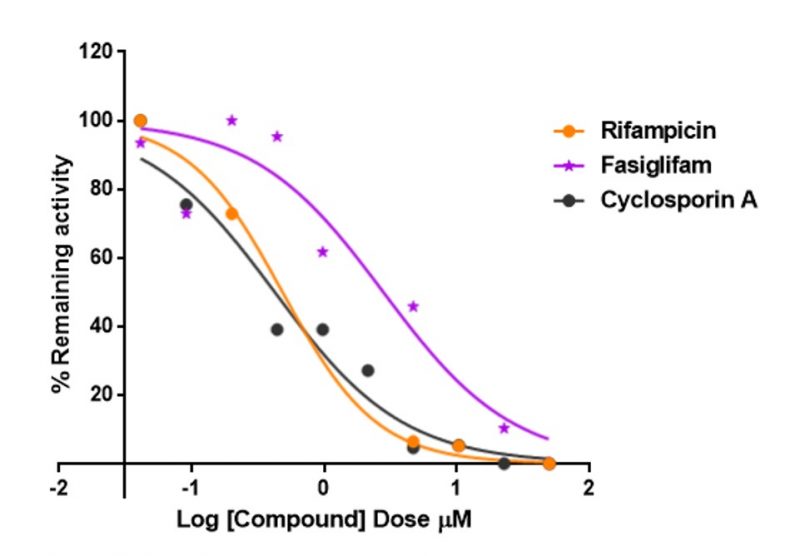 Figure 1. Inhibition of estradiol 17β-D-glucuronide uptake into ready plated HEK293 cells expressing human OATP1B1 or OATP1B3 transporter by a number of Known inhibitors.
About Us
The DMPK & Physical Sciences department at Sygnature Discovery is dedicated to understanding and optimising the absorption, distribution, metabolism and excretion of drug candidates by working in close partnership with clients and other departments within Sygnature to provide successful optimisation strategies.
We have extensive know-how and expertise to provide well validated, state-of-the-art assays and a comprehensive applied consultancy service for interpretation of the in vitro ADME and in vivo PK data.
Our corporate vision is to accelerate the discovery of new medicines, from the laboratory into development to treat patients.
Our DMPK mission is to deliver tailored DMPK expertise through innovation, quality and commitment.