MRP2 Inhibition
Multidrug resistant associated protein 2 (MRP2; ABCC2) is member of a family of ATP-binding cassette drug efflux transporters located in the cannalicular (apical) membrane of hepatocytes. Loss of function mutations of this transporter have been found in patients suffering from Dubin-Johnson syndrome, a rare autosomal-recessive disorder, which causes the increase of conjugated bilirubin in the serum. The transporter mediates the efflux of bilirubin glucuronide metabolites and other organic anions playing a key role in the biliary elimination of these substrates. Inhibition of this transporter may result in hyperbilirubinemia (increasing the risk of drug-induced liver injury) and affect the absorption and distribution of some xenobiotics.
Sygnature's human MRP2 inhibition assay measures the inhibitory effects of test compound on the uptake of Leukotriene 4 (LTC4), a known MRP2 substrate, into inverted vesicles containing the MRP2 transporter which have been extracted from transformed Sf9 insect cells expressing the associated protein. LTC4 and test compound are incubated with the vesicles in the presence of ATP. AMP is included to correct for passive (non-active) transport. Benzobromarone or Troglitazone and Vehicle are included as positive and negative controls, respectively.
Protocol
Compound requirements
10 mM DMSO, 50µL
Substrate
0.1 μM Leukotriene 4 (LTC4)
Test Article Concentrations
8-point IC50 in duplicate
Incubation Time
10 min at 37°C
Test System
ATP-dependent uptake into inside-out human MRP2 vesicles (other species available on request)
Analysis Method
UPLC-MS/MS
Controls
5 mM AMP (to correct for non-active uptake)
Benzobromarone and/or troglitazone (positive control compounds)
Data Delivery
IC50
Results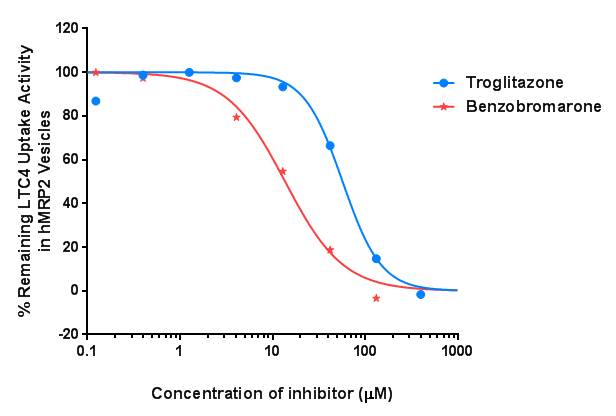 Figure 1. Inhibition of LTC4 uptake into inside-out vesicles expressing the human MRP2 transporter by 2 known MRP2 inhibitors.
About Us
The DMPK & Physical Sciences department at Sygnature Discovery is dedicated to understanding and optimising the absorption, distribution, metabolism and excretion of drug candidates by working in close partnership with clients and other departments within Sygnature to provide successful optimisation strategies.
We have extensive know-how and expertise to provide well validated, state-of-the-art assays and a comprehensive applied consultancy service for interpretation of the in vitro ADME and in vivo PK data.
Our corporate vision is to accelerate the discovery of new medicines, from the laboratory into development to treat patients.
Our DMPK mission is to deliver tailored DMPK expertise through innovation, quality and commitment.