Microsomal Protein Binding
Understanding the non-specific binding of drugs to microsomal protein and fuinc is beneficial in generating an accurate prediction of in vivo clearance and drug-drug interactions.
The leading approach for assessing microsomal protein binding is rapid equilibrium dialysis as the impact of non-specific binding is minimised when compared to other methods such as ultrafiltration and HT-Dialysis, which are relatively slow processes to reach equilibrium.
Sygnature's Microsomal Protein Binding assay utilises the Rapid Equilibrium Dialysis (RED) device to measure the percentage binding of a test compound to microsomal proteins in a variety of species (e.g. human, rat, dog, mouse, monkey). This will then allow the percentage unbound to be calculated. Test compounds and positive controls (species dependent) are incubated with microsomal protein and dialysed against buffer in a RED device for 4 hours at 37°C, with continuous shaking at 200 rpm. Samples are matrix matched and analysed by LC-MS/MS against a 6 point standard curve prepared with microsomal protein.
Protocol
| | |
| --- | --- |
| Compound requirements | 10mM DMSO solution, 10uL |
| | |
| Test Article  | 5µM |
| [Protein] | 0.5 mg/mL |
| Incubation Time | 4 hours  at 37°C under continuous shaking |
| Test System | Equilibrium dialysis in the RED Device |
| Replicates | Triplicate |
| Analysis Method | UPLC-MS/MS |
| Controls | 2 positive controls (species dependent) |
| Data Delivery | Percentage bound/ unbound and percentage recovery |
Results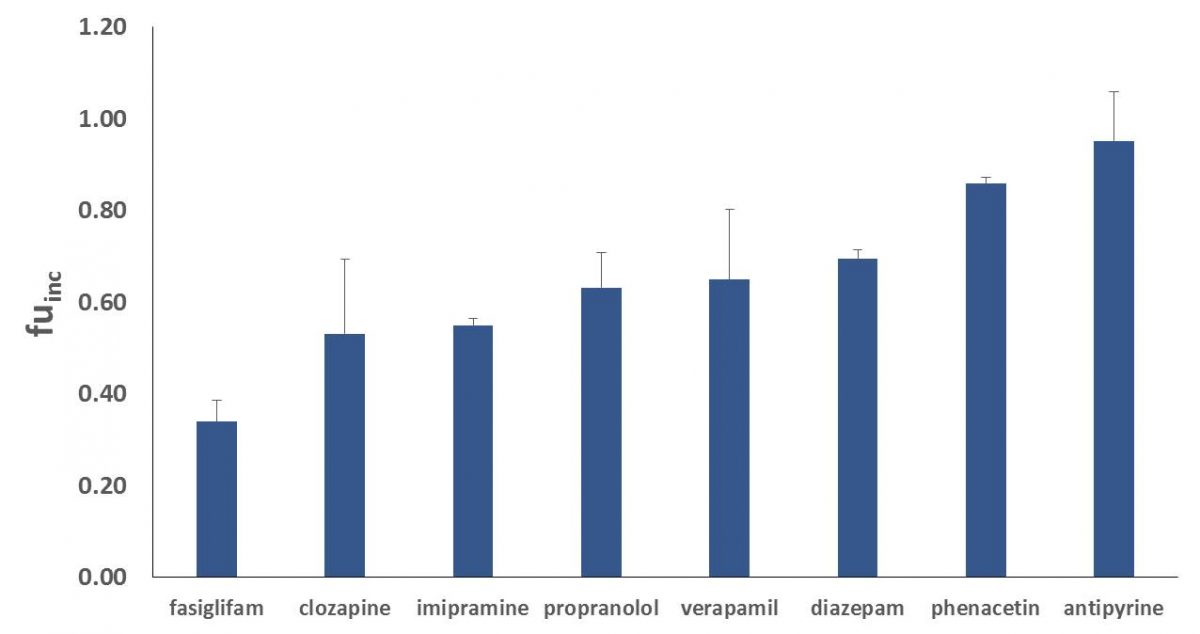 Figure 1 Microsomal protein binding for a set of 8 compounds to rat liver microsomes using Sygnature's Microsomal Protein Binding method. The error bars represent the standard deviations of 3 replicates.
About Us
The DMPK & Physical Sciences department at Sygnature Discovery is dedicated to understanding and optimising the absorption, distribution, metabolism and excretion of drug candidates by working in close partnership with clients and other departments within Sygnature to provide successful optimisation strategies.
We have extensive know-how and expertise to provide well validated, state-of-the-art assays and a comprehensive applied consultancy service for interpretation of the in vitro ADME and in vivo PK data.
Our corporate vision is to accelerate the discovery of new medicines, from the laboratory into development to treat patients.
Our DMPK mission is to deliver tailored DMPK expertise through innovation, quality and commitment.