Sygnature Discovery strengthens team with three key appointments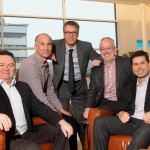 BioCity-based Sygnature Discovery has kicked off 2015 by strengthening its senior team and bringing new services in-house.
Dr Tim Schulz-Utermoehl, having previously worked for Shire Pharmaceuticals and AstraZeneca, is heading up the new DMPK department at Sygnature. As Director of DMPK Tim will be responsible for providing consultation for our clients and building a team of experienced scientists.
Dr Martin Quibell also joins to take the position of Director of Medicinal Chemistry. Martin will be responsible for leading the largest team within Sygnature Discovery, which comprises 76 scientists.
Dr Scott Pollack has been appointed Associate Director of Biosciences as this established department continues to expand to meet demand.
Commenting on the appointments, CEO Simon Hirst, said, "I am delighted to welcome Tim, Martin and Scott to the team. We have exciting plans for the coming year, and they all have a key role to play.
"Having Tim on board will enable us to increase our integrated research offering to our clients. We have seen an increased demand for DMPK services and whilst we have long-established relationships with a federation of partners, with whom we will continue to work, we recognise the need to bring some of that expertise in house. Clients will stand to benefit from a greater contribution from our in-house team, as well as our partners.
"We have been looking for the right person to lead our Medicinal Chemistry team and warmly welcome Martin who brings a wealth of experience, having worked at Shire Pharmaceuticals and Amura Therapeutics."
Tim Schulz-Utermoehl graduated from the University of Leeds in 1994, completed his PhD at Imperial College in 1999 and carried out his postdoctoral research on DMPK and pre-clinical development at Novo Nordisk in Denmark. Tim began his career in DMPK at Merck Sharp & Dohme before moving to AstraZeneca in 2006. More recently, he worked at Shire Pharmaceuticals as Director of Exploratory Projects where he led, managed and prioritised the early discovery projects portfolio.
Martin Quibell is a Medicinal Chemist with 20 years experience, who graduated from the University of Birmingham and completed his postdoctoral research at the Medical Research Council in Cambridge. He went on to join Peptide Therapeutics before taking up the position of Chief Scientific Officer at Amura Therapeutics. In 2010, Martin joined Shire Pharmaceuticals as Senior Director of Exploratory Projects where he established an internal Medicinal Chemistry Team to provide creative and patentable new product ideas for Shire Speciality Pharma.
These two key appointments are hot on the heels of the recent appointment of Dr Scott Pollack. Scott has a BA in chemistry from Harvard and a PhD from the University of California, Berkeley. He has extensive experience applying biophysics and enzymology to a broad range of drug discovery targets, covering areas ranging from target validation and assay development through to hit identification, characterisation and mechanistic analysis.
Sygnature Discovery, which celebrated its tenth anniversary with a Symposium in September 2014, is a major employer in the UK's life sciences sector.