Paul Clewlow reflects on 11 years of success at Sygnature as he hands over the reins
After 11 years of success at Sygnature, Paul Clewlow will step down from his role as Executive Director and Senior Vice President – Business Development, and hand over the reins to Paul Overton. Paul Clewlow will remain on the Sygnature Board as a Non-Executive Director.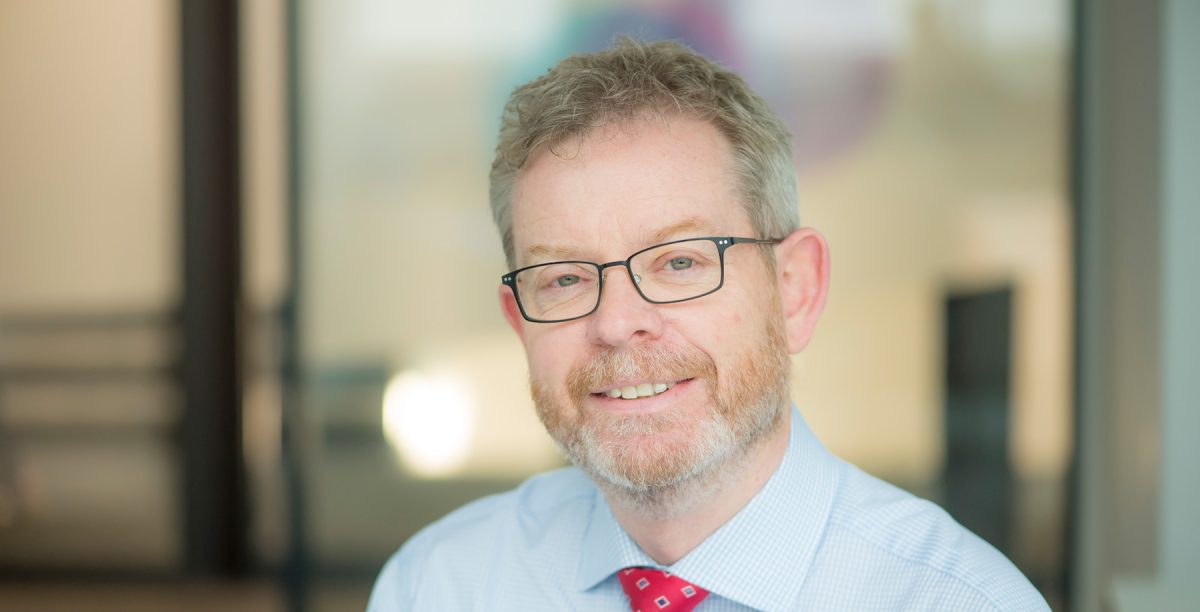 When Paul Clewlow joined in 2009, Sygnature was a medicinal chemistry-focused company with a total of 30 staff. Fast forward 11-and-a-half years to the present day, and Sygnature has evolved to and organisation that undertakes fully-integrated drug discovery programmes from target validation, through hit identification, hit-to-lead, lead optimisation to pre-clinical candidate, with over 400 full-time employees.
We caught up with Paul to reflect on his years at Sygnature, how the company has developed, and where the future might take it.
How much has Sygnature changed in your time here?
Well, I was the first full-time employee working in business development at the company. Essentially, I was the BD team. Up to that point, Simon (Simon Hirst, CEO & Founder) had brought in most of the business himself, and he brought me in to take that burden off his shoulders in April 2009.
My thoughts from the beginning were that there was a lot more that Sygnature could do. We were purely a medicinal chemistry company at that point, and we did it very well. But there was a clear opportunity to expand our offering, to do more than just design and synthesise the compounds.
There were certainly some at Sygnature who were thinking along similar lines, which may be what attracted them to me as a candidate. I came here from Argenta Discovery, who were the main CRO in the UK that was selling integrated drug discovery services at that time.
Of course, the company has changed immensely over the years. For one thing, I used to know everybody by name, but unfortunately I cannot claim that anymore. Our capabilities have expanded rapidly, and we now earn as much in two weeks as we did in a year when I joined the business in 2009, which is incredible.
But while our offering has evolved rapidly, our ethos is still the same. Sygnature has always been known for the quality of its science, and that has remained at our core as we have grown.
The industry has changed a lot in that time too. Outsourcing has grown tremendously. Previously, big pharma companies were where all drug discovery and development happening. At that stage they were just starting to trust external organisations to do clinical trials, but still wanted to keep control of the molecules they were developing. Today the whole process of creating a new medicine can be outsourced, and it is happening more and more.
What is the biggest challenge you've faced?
It has always been matching resource availability to what clients want and when they want to initiate their research projects. Of course, the scale has changed immensely over the past 12 years, but the challenge remains the same. We have always met that challenge by being flexible and focusing on the quality of the scientists we recruit. It is about finding the right people, with the right experience and the right attitude to fit into the Sygnature ethos, at the right time.
Looking back, what are you most proud of?
The thing I am proudest of is the team I will be leaving behind. Our BD/Marketing team is pretty small compared to many similar sized companies, but they do a tremendous job and have been very successful. We have achieved a lot for our size, and that's because we have brought in the right people, with the right skill sets, and we work together as a team. There are not a lot of egos, and people collaborate very well.
I have never worked for a company that has seen consistent 20%+ revenue growth year on year. We have never really had much spare resource or struggled with selling our service-offering. Of course, that comes down to the quality of our science, the reputation we have built, but it also comes from the efficiency and hard work of our BD/Marketing team.
Personally, I had to learn that you cannot do everything yourself. Understanding that, and knowing what your strengths and weaknesses are, is at the heart of good management. So, I learned to let people do what they are good at, and not micromanage. People do things differently, and I believe you will hold them back if you do not let them play to their own strengths.
Where do you see Sygnature's future?
For Sygnature I truly believe the sky is the limit. We have a firm basis as a business of being profitable and highly successful to build continued success from.
I am excited to see the business become more focused on therapeutic areas, rather than being seen as a generalist drug discovery CRO. You can see that already in our oncology department, where we have brought in some great people such as Allan Jordan, Jane Kendrew and Stuart Thomson. Having true experts in a therapeutic area within the company not only bodes well to win business, but also ultimately improves the science that we deliver. I look forward to similar developments in other therapeutic areas across the company over the coming years.
I think the business will also need to grow geographically. Over half of our business now comes from North America, so we will likely need to develop more of a physical presence there, perhaps even our own labs, and preferably within a new field so that we grow our capabilities at the same time. It may make sense to establish a presence in mainland Europe as well.
Of course, the challenge with that is that we have to maintain our scientific quality, which becomes more difficult to manage as you expand geographically. But that quality has always been a differentiator for Sygnature, and I hope we never lose sight of why we've grown and been successful.
There is also still scope to broaden our offering. There is more we could do early in the process around target validation, more hit finding, and things like DNA encoded library capability. But also later on in the journey, with GMP manufacture, additional tox testing, etc. and going towards the clinic.
How did you come to choose Paul Overton to take your position?
We knew Paul from when he worked at Aptuit, and we had stayed in touch over the years. Honestly, when I first began speaking of taking a step back, Paul was the first person who came to mind.
He has fantastic experience in the industry which is highly relevant for where we need to take Sygnature over the next few years. He's a scientist himself, which I think is important. Most of all though, he is a really decent bloke, someone I could trust to hand the team over to.
I am impressed with him already. He's got a lot of ideas, he works well with the team, and I think he is the ideal person to help Sygnature reach its goals over the coming years.
Paul Overton, incoming Executive Director and Senior Vice President – Business Development, added:
"I'm really excited to pick up the commercial baton from Paul and drive Sygnature Discovery business onwards. I've known Paul for many years and have a great deal of respect for his leadership abilities and the team successes he has delivered.
"My goal now is to continue to work with the team and build on the solid commercial foundations Paul has created in Sygnature. I wish Paul an enjoyable retirement and look forward to his commercial and scientific input into our board meetings"